The Full-Time MBA is an innovative accelerated 13-month program that creates exceptional career advancement by combining our proven curriculum with significant paid internship opportunities.*
This program is perfect for recent graduates who have limited or no professional experience, and working professionals who desire to get their MBA quickly. Evening classes from 6:00 PM-9:30 PM Monday, Wednesday and Friday accommodate students choosing to do an internship and the established professional who wants an evening accelerated program. Cohort size is limited to 50-60 students and admission is competitive.
*Internship positions are limited. If you are internship seeking, submit your application early for the best opportunities.
Apply now
2020-2021 Louisville Athletics Adidas Internship Program
Interns are placed in a variety of areas (e.g., Sports Information/Media Relations, Marketing and Game Operations, Athletics Compliance, Video Production, etc.) based on interest and skill set. It is a 10-month commitment (August 1-May 31, 2021) and individuals will receive a monthly stipend. The application closes on April 1, 2020.
APPLY for an Adidas Internship TODAY
---
MBA Highlights
No GMAT required
Paid internship opportunities* are included providing exceptional work experience, networking opportunities and valuable resume credentials with potential for continued employment
Cohort and team-based format creates a high-quality, diverse learning environment
Frequent guest speakers include successful alumni as well as regional and national business leaders
Electives build expertise in various sectors
Online electives in Franchise Management or Distilled Spirits Business earn added certification at no extra cost
Professional development modules build expertise and confidence in skills that transfer readily between careers
No pre-requisite courses
Tuition costs are the same, regardless of residency
World-class faculty includes teacher/scholars with extensive professional experience
Optional 10-day international study trip**
Professional career coaching with our Lifetime Career Support Promise
* Internships are competitively-based and not guaranteed).
**Alternate non-travel course section must be taken if an optional 10-day international study trip is not undertaken. MBA program charge includes the cost of the trip minus airfare, most dinners, and personal incidentals. No refunds or discounts are applied if the student selects not to travel.
---
---

MBA/MAC International Study Trip
Consistently touted as a highlight of the MBA and MAC programs, these study trips transform students' understanding of business abroad and give many their first exposure to other cultures.
Learn More

Graduate Internships
Competitive paid internship opportunities* are a cornerstone of the MBA/MSBA experience.   *Competitive-based and not guaranteed
Learn More
MBA Alumni Council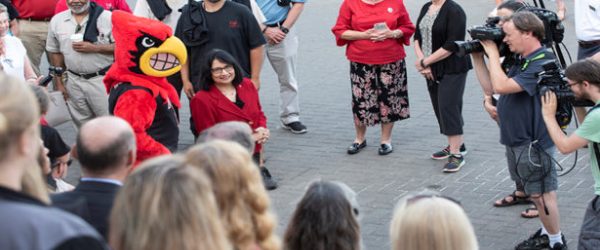 Looking to connect with other MBA grads, have a little fun, and even contribute to the UofL graduate community beyond your MBA? Consider joining the MBA Alumni Council.
Learn more about the MBA Alumni Council
---
Contact the Graduate Program Office
College of Business, Suite 074
University of Louisville
Louisville, KY 40292
Phone: (502) 852-7257
Contact Us
---
Ready to get started?
Apply now