OMSBA
The 100% online MS in Business Analytics (OMSBA) is designed to provide students with the background and technical knowledge to read data, recognize patterns, predict outcomes, and tell the story of numbers. Graduates will have the necessary experience to analyze and interpret complex micro- and macro-data, allowing business leaders to make data-driven strategic, informed decisions for their organizations.
Our Online MSBA program prepares students for the market challenges of tomorrow. With an online business analytics degree, you open doors for yourself for years to come.
What's different about our online MSBA? We are:
*For international students – Online programs do not qualify you for OPT. You must be a student on campus to qualify for OPT and STEM OPT benefits, respectively.
Our students come from various fields and industries. While previous experience and a general business background or understanding can be beneficial, incoming students do not need previous data or programming experience to begin this degree. — Here, you will acquire all the essential elements for achieving success, encompassing programming expertise in Python and R, as well as honing analytical modeling skills like predictive modeling, machine learning, and deep learning. With these analytical and programming skills, you will be better prepared for a career in data science.
UofL's College of Business is ranked as one of the top business schools by U.S. News & World Report, Poets & Quants, and Princeton Review for providing the best graduate programs.
---
Apply now
Course Catalogue
Program Highlights
No previous experience needed: Students can complete a free statistics course over the summer to help prepare for advanced analytical classes.
Fast-track to success: Our MSBA online students can complete the program in just 12 months.
Corporate Partners: C-suite executives from companies like Yum! Brands, Humana, GE Appliances, UPS, Papa Johns, Mercer, Appriss, and more make up our board and inform us on the skills and background they look for in graduates from our program.
Small cohorts: Learn and grow alongside like-minded individuals in a small class format. Our typical section would be 25-30 students.
Job security: Data analyst jobs are projected to grow significantly in the next decade (bls.gov).
---
Outcomes & Opportunities
According to the U.S. Bureau of Labor Statistics, data analysis positions are expected to grow significantly over the next decade. The median annual salary for data scientists is over $120,000 (builtin.com), with those in the ninetieth percentile earning more than $345,000 annually.*
The job security benefits don't end there. This program is advised by and works collaboratively with a board of C-suite executives from companies including Humana, Papa Johns, Appriss technologies, GE appliances, YUM! Brands, Bright Springs, Mercer, and more, all of whom provide expert insight and feedback for knowledge, skills, methods, and tools that best prepare graduates of our program for the real world.
Graduates of our program will learn a variety of skills including:
Advanced Analytics Skills: The program provides knowledge in areas such as predictive modeling, machine learning and artificial intelligence, data cleaning, transformation, and modeling. Graduates will be proficient in statistical software such as R, Python, and Tableau, and be able to apply these techniques to solve complex business problems.
Business Strategy: Graduates will have a strong understanding of business strategy and be able to use data-driven insights to inform strategic decision-making.
Data Management: Students will become proficient in managing and manipulating large and complex data sets, and have a solid understanding of database management, data warehousing, and data integration.
Communication and Visualization: Course materials will help develop excellent communication and visualization skills, so MSBA graduates are able to present complex data and insights to both technical and non-technical audiences in a clear and compelling manner.
What kind of jobs can I pursue?
A student with a business analytics degree is prepared for a variety of data analyst career paths and positions, including: statistician, business and market research analyst, data scientist, data science training, technical business analyst, and more.
*Salary range can vary greatly based on location and previous work experience.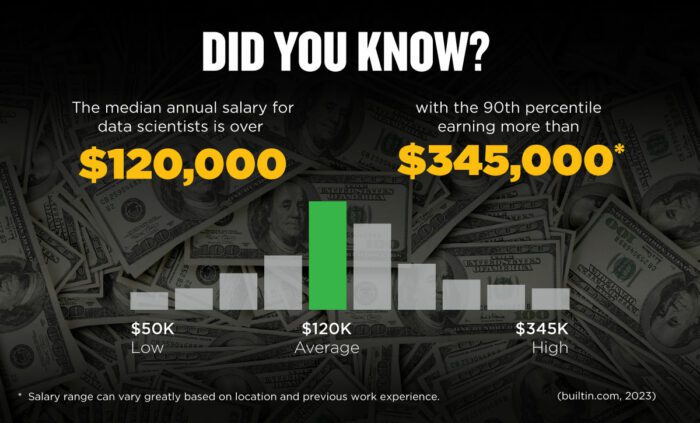 ---
---
Contact the Online Programs Office
College of Business
University of Louisville
Louisville, KY 40292
Contact Us
---
Graduate Programs Upcoming Events
Upcoming Events