Get more information about the FranchiseU! podcast
Reach out to us. We'd love to hear what you think. Get more information about the podcast, upcoming episodes, and learning opportunities at the Yum! Center For Global Franchise Excellence.
Bi-Weekly Podcast
About the Series

FranchiseU! provides education and inspiration to those in, or considering careers within, franchising. This podcast is produced by the Yum! Center for Global Franchise Excellence at the University of Louisville. The Center's vision is to empower communities to create and sustain generational wealth using the franchising business model.
Listen on your favorite podcast platform:
Kathy Gosser, PhD
Podcast Host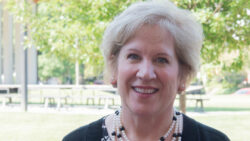 Dr. Gosser originally joined the College of Business in 2019. Before joining UofL, Dr. Gosser spent 35 years at YUM! Brands. Her last role with the company was as Director of Learning & Organizational Development and the Chair of the KFC Foundation. She earned her PhD in Educational Leadership and Organizational Development from the University of Louisville, her MBA from UofL, and her BA in Journalism from Indiana University.