Add strength, breadth, and diversity to your bachelor's degree with a business minor from the College of Business. You get the benefits of becoming more marketable to recruiters and valuable to companies with a business background. A business minor enhances your resume by complementing the knowledge of basic principles and practices of business with your bachelor's degree from either the College of Business or other disciplines.
For more information regarding the minor programs, please contact the Reinhardt Academic Center at 502-852-7439, business@louisville.edu, or in room 024 in the atrium of the south wing of the College of Business.
Apply for a Business Minor
UofL students outside of the College of Business who wish to declare a College of Business minor can do so through ULink under the Student Services tab. Change Major Request link is in the third column, then add a minor. Any questions concerning transferring to the College of Business, please contact the Reinhardt Academic Advising Office at (502) 852-7439. Business majors who wish to add a business minor should contact their COB advisor.
---
Minor in Accounting
Students graduating with any degree are frequently required to make financial decisions for their department or areas of influence regardless of their undergraduate major. These decisions, for example, consist of creating budgets and submitting proposals that require the allocation of resources, cash, or other assets. An Accounting Minor will give students the skill and confidence to review budgets, ask the right business questions and make more informed business decisions in any field of their chosen endeavor.
The minor is open to all students at the University of Louisville. To be admitted, a student must have a B- or above in ACCT 201 and ACCT 202. Students must also maintain a cumulative 2.5 GPA in accounting classes to be awarded the minor.
Program Prerequisites (6 Credit Hours):
ACCT 201 Principles of Financial Accounting
ACCT 202 Principles of Managerial Accounting
Accounting Minor Core (9 Credit Hours):
ACCT 301 Intermediate Accounting I
ACCT 302 Intermediate Accounting II
ACCT 310 Introduction to Accounting Information Systems
Accounting Electives (9 Credit Hours):
ACCT 320 Managerial Cost Accounting
ACCT 315 Introduction to Taxation
ACCT 430 Auditing Theory and Practice
MORE DETAILS TO COME
---
Minor in Business Administration
The minor includes classes with all facets of business including Management, Marketing, Finance, Computer Information Systems, and a business elective. These basic studies in the business field help students prepare for a wide range of careers that involve business applications and business principles. The minor is an enhancement to whatever field students are studying by introducing non-business majors to the foundation areas of business.
Undergraduate Catalog
Minor in CIS
Employers are paying MORE for your business skills when they come with CIS/IT know-how. The Computer Information Systems Minor is designed to give you the tech-savvy you need to open more doors when you graduate, with a higher starting salary. The CIS Minor (available to College of Business students only) equips non-CIS majors with the technical skills and awareness employers expect in executive and management-level positions in accounting, finance, marketing, economics, and even equine industry positions.
Undergraduate Catalog
Minor in Data Analytics
The CIS Minor in Data Analytics gives you an overview of the vital skills in rapidly developing and in-demand areas including business analytics, artificial intelligence, blockchain, database modeling, storytelling through data, and more. The minor in Data Analytics is open to all students at the University of Louisville and consists of 15 credit hours.
Undergraduate Catalog
Minor in Economics
The Economics Department offers a minor that is an excellent program suitable for any business-related or non-business majors. It provides the academic foundations for all business disciplines as well as helping students develop critical thinking skills. Arts and Sciences students in political science and other policy-related disciplines would also benefit from an economics minor.
Undergraduate Catalog
Minor in Entrepreneurship
If you've ever wondered if you have what it takes to start or build a new business, develop new products and services, or bring innovation and creativity to an existing business, the Entrepreneurship Minor is for YOU!
The Entrepreneurship Minor provides value-added skills that set you apart from other graduates. Employers want entrepreneurial/intrapreneurial thinking and acting employees. Differentiate yourself with this special minor which focuses on building on your own innovation strengths; challenge yourself to explore. The minor is open to all College of Business students, no matter their major. The minor develops your ability to search for, discover, and exploit marketable ideas in a corporate environment or an independent new venture.
Undergraduate Catalog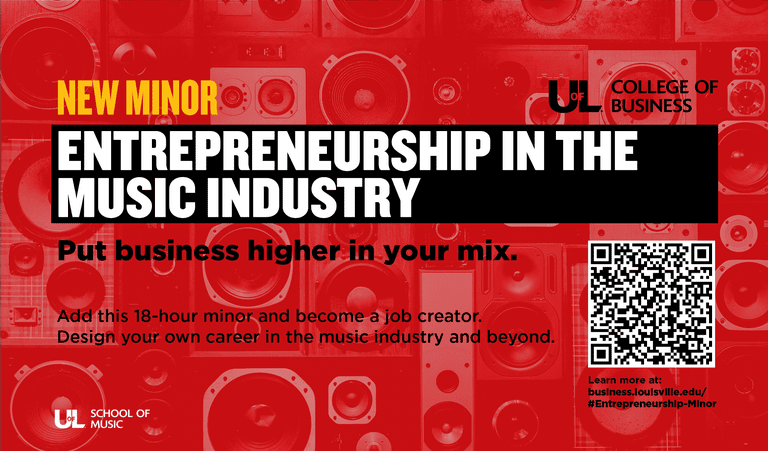 Entrepreneurship Minor in the Music Industry
More than just an application of business principles within the music world, the Entrepreneurship Minor in the Music Industry leverages the creative drive for innovation at the heart of entrepreneurial studies. This minor pairs the essential skillsets needed to succeed in the music industry with the venture understanding and mindset to make your passion and personal connection to music a sustainable profession.
Course Listing:
Entrepreneurship Minor Core
Entrepreneurship Minor Course Catalog
ENTR 350 Entrepreneurial Creativity and Innovation
ENTR 370 The Entrepreneurial Process
ENTR 402 Venture Finance
ENTR 403 Venture Planning and Management
Music Industry Courses
MUS 535 Music Industry I
MUS 536 Music Industry II
MUS 478 Music Industry Internship
Undergraduate Catalog listing …Coming soon
---
Minor in Equine Business
Position yourself with the leaders in the horse business. The Minor in Equine Business builds on the business prerequisites by going more in-depth with equine economics, finance, marketing, and a fourth elective chosen to expand the knowledge base unique to each student's interests. The Equine minor will provide a solid foundation in equine topics for students interested in pursuing a career path that requires a different degree like an equine accountant. The Minor in Equine Business is available to all majors at the University of Louisville who meet the program prerequisites.
Undergraduate Catalog
Minor in Finance
Enhance your major with a Finance Minor that will be useful in every type of business by gaining the ability to understand and apply financial concepts and skills. The courses in the minor provide students with an understanding of individual investing, the scope and nature of the financial sector of the economy, and the challenges and opportunities for business competing in the global marketplace.
Undergraduate Catalog
Minor in International Business
The Minor in International Business is designed to enhance any major and will intensify your employability. The minor provides students with an opportunity to focus on international business by instilling the knowledge, skills, and experiences that prepare them for a business career that may include responsibilities in the global market. Many American firms have international operations, therefore an understanding of different cultures, markets, and business practices gives students with an international minor the edge over those without these competencies for the multicultural marketplace.
Undergraduate Catalog
Minor in Management
Increase your competitiveness in the job market with a Minor in Management. You will develop a greater appreciation for this broad area of business knowledge and build an additional skill set­­–project management skills that have universal value, including communication skills, problem solving, teamwork, leadership, creativity, and appreciation for diversity and cultural differences. This minor incorporates subject matter including Human Resource Management, Leadership, Management Decision Making, and Operations Management. Selecting this minor will brand you as possessing project management skills–requisite skills for all organizations in the future.
Undergraduate Catalog
Minor in Marketing
A minor in Marketing can be very useful because having good marketing skills complements several areas, both within business and outside of business. In today's world, companies are looking for employees who can not only handle the technical aspects of their jobs but can also communicate and market what the company does. In addition, marketing is pervasive in today's society and both small and large companies. Even individuals have to be adept at marketing their strengths. As a result, a minor in Marketing can be very useful both from a professional as well as a personal point of view.
Undergraduate Catalog
---