Admitted Master of Accountancy (MAC) Students (TEST)
---
Welcome from our dean…
Welcome from our program director…
---
Good Luck from the Admissions Team
The first day of class is just around the corner! We are thrilled that you've chosen to include the College of Business on your new path of growth and achievement through a graduate business degree. We know that your time spent with us will be challenging and rewarding, and we are excited about this opportunity for you to learn and grow in a truly transformative environment.
The admissions and recruitment staff may have helped you open the door, and we've enjoyed getting to know you and working with you through the application process. It is now time for us to wish you good luck, as you will now transition into the hands of our wonderful, professional program and student services team, who will support you every step of the way.
We'll see you at the finish line!
---
Student Services – Your Success is Our Success
Our dynamic student support center is designed to streamline and centralize the support you will need throughout your MAC journey into one, easily-accessible, service-focused team. They are your direct connection to assistance on all aspects of your graduate experience.
Email Student Services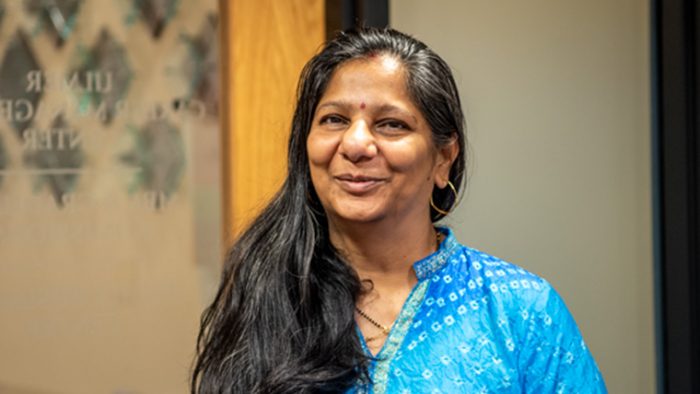 Heading-up this support operation is Manjiri Menezes, who is our Student Affairs Manager. She has been working with the College of Business for eight years and brings great experience and passion for assisting in the success of our graduate students. Manjiri is excited to focus her efforts on enhancing the overall experience of our graduate students.
Manjiri is located in the Graduate Programs / Ulmer Career Management Center Suite. If you find yourself on campus, even before your program begins, feel free to stop in and say hello to Manjiri. She can be reached at 502-852-4798 or at manjiri.menezes@louisville.edu.
---
GradBizLink – Your Graduate Business Info Source
You'll begin receiving our GradBizLink email communications, which will inform you about exciting opportunities and connect with others in your graduate program, student and faculty spotlights, cool stuff going on with our faculty in the business school, and fun things about campus and Louisville.  You'll receive GradBizLink emails throughout your graduate experience, but those that you will receive between now and Orientation will be dedicated to preparing you for your MAC journey ahead.
---
Preparing for Your Graduate School Experience

Program Kick-Off and Orientation
Your itinerary, including an opening night dinner (RSVP form included).
Learn More

MAC Academics Preview
From registration to future initiatives, preview your first semester.
Learn More

Graduate Internships
Competitive paid internship opportunities are a cornerstone of the MBA/MSBA/MAC experience.  
Learn More

Graduate Program Portal: Your To-Do List
The important action steps that you need to take to activate your UofL student accounts, obtain your ID card, and purchase your parking permit.
Learn More
Team Directories

MAC Staff & Faculty
Meet the team and professors behind your graduate program experience.
Learn More

Ulmer Career Management Center Staff
From personalized career coaching to job search skills, the Ulmer Career Management Center is a resource throughout your school experience and beyond.
Learn More
Return to the Grad Student Portal