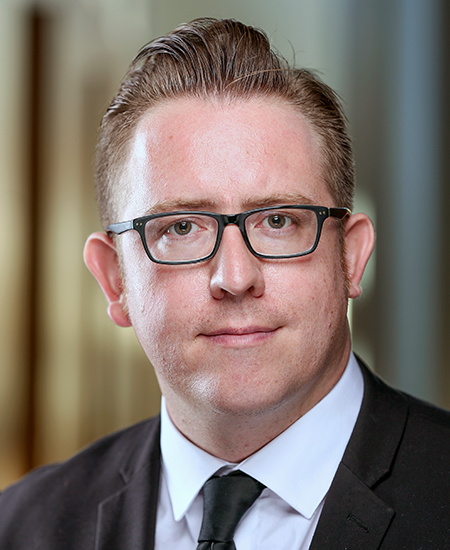 Russell Williamson, PhD
Assistant Professor, Accountancy
College of Business, Room 247
Back to All Faculty/Staff
Bio
Dr. Russell Williamson is a licensed CPA and holds a PhD in Business Administration from the University of Kentucky. Williamson gained his professional experience as a risk and control specialist in the management consulting division of EY based in San Jose, California. During this time he built his expertise working on large scale projects providing risk management implementation, data privacy compliance, SOX compliance, fraud detection and protection, performance improvement, IPO readiness, and other services around mergers and acquisitions and initial public offerings for firms in the technology, manufacturing, energy, and entertainment industries.
Williamson is passionate about technology, risk management, and corporate governance; his research focuses on understanding how regulation affects organizational outcomes through the risk management process and the role that corporate governance plays in improving compliance outcomes around auditing, reporting, and compliance with both financial and non-financial regulation. Recently, Williamson has started investigating the role artificial intelligence will play in risk management, auditing, reporting, and compliance in the future state of the accounting profession.
Williamson teaches the undergraduate capstone course for graduating seniors and the Advanced Information Systems course in the master's program. When working with students, he challenges them to think critically about what accounting means to the world and how to apply their experience, knowledge, and professional judgement to create quality information and create organizational value.
Williamson believes that the greatest thing his students can learn is how continue learning in order to build their understanding of accounting, ethics, and risk, and to build confidence in their ability to apply their knowledge and experience to solve the business problems of the future.
Education
PhD

(Accounting) University of Kentucky, 2019

MS

(Accounting) University of Kentucky, 2012

BS

(Accounting) University of Kentucky, 2011
Awards & Honors
North American Regions KAKEHASHI Project (March 2018)
Selected as one of 48 business graduate students to participate in a diplomatic exchange program between Japan and the US to "promote mutual trust and understanding among the peoples of Japan, the US and Canada, and to build a basis for future friendship and cooperation"
University of Kentucky, Luckett Fellowship (2014 – 2018)
University of Kentucky, Von Allmen Fellowship
University of Kentucky, Reedy Fellowship (2014 – 2018)
Recent Research & Publications