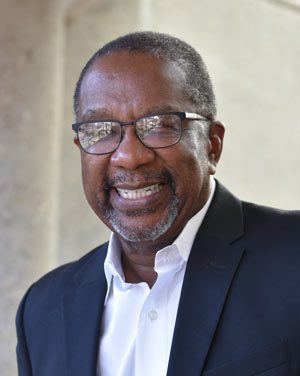 Nat Irvin II, DMA
Assistant Dean for Thought Leadership and Civic Engagement, Dean's Office
College of Business, Room 324
Back to All Faculty/Staff
Bio
Author, innovator, futurist, teacher, composer and former radio and television commentator, Nat Irvin, II, serves as Assistant Dean of Thought Leadership and Civic Engagement, and Woodrow M. Strickler Chair, Professor of Management Practice, University of Louisville, College of Business. He teaches graduate courses in the future of management, leadership, and team dynamics.
Dr. Irvin is founder of "Thrivals @IdeaFestival" with the Kentucky Science and Technology Center. "Thrivals" is the kick-off day of the IdeaFestival, an annual world-class event that attracts leading global innovators and thinkers to discuss and celebrate imagination, new perspectives and transformational ideas. The Thrivals experience has exposed thousands of high school students to exploring Big Ideas, exploring ways in which we might make new connections among demographic groups towards a more global awareness and understanding of some of the major driving forces that will shape our future.
Irvin has engaged the leadership and management teams of several groups and organizations, including Fortune 100 companies in strategic conversations focused on the significant social, political, economic, technological and environmental trends and events that will drive the mid-to- long term future.
He serves as futurist for the National Black MBA Association and the Executive Leadership Council (ELC). He most recently authored "The Chase for 2042" the concluding chapter for "Celebrating a Legacy, Empowering the Future," The National Black MBA Association, 2015. He is the recipient of the H. Naylor Fitzhugh Award of Relevance, awarded by National Black MBA, which recognizes exceptional contributions and a demonstrated involvement in various businesses, educational and professional organizations within the African American community. In 2016, he received the Faculty Service Award, College of Business, University of Louisville. Irvin is a former member of the Board of Directors of the World Future Society, and chaired the Annual Conference, Washington, DC, 2008.
Irvin has been quoted in the New York Times, San Francisco Chronicle, The BBC, Christian Science Monitor, ABC News, Essence Magazine, among other news organizations. He was a columnist for the Winston-Salem Journal, distributed by Media General Newspapers for over 15 years, provided commentary for NPR's Weekend Edition and was a regular member of the roundtable on NPR's News and Notes. He created and hosted "Other Voices" a weekly commentary program that aired on NBC Affiliate, WXII News Channel 12, Winston-Salem, NC. The program received the Midsouth Regional Emmy award in Editorial/Commentary, February 1999.
From 1996-2007, Irvin led Future Focus 2020, a think tank dedicated to providing leadership in bringing futurist thinking to urban communities. In 2000, Future Focus 2020 became a center of the Babcock Graduate School of Management at Wake Forest University in Winston-Salem, North Carolina, where Dr. Irvin served as Executive Professor of Future Studies and as Assistant Dean for MBA Student Development.
Irvin was the voice of "N2 the Future" a futurist thinking educational program aimed at reaching urban audiences that debuted 2006 on "Syndication One," produced by Radio One. The show could be heard in over 30 major urban cities in America.
Irvin was an advisor to a proprietary research study on consumer behavior and the emergence of identity among African American, Latino, Asian Indian, and LGBT groups conducted by Starcom MediaVest Group, one of the
world's largest brand communications groups. Advertisers and other media use Irvin's findings to identify new demographic groups and target them with customized messages and
opportunities. The Beyond DemographicsTM initiative launched in 2007 under the direction of Esther "ET" Franklin, EVP, Director of Cultural Identities for Starcom MediaVest Group, to transcend demographics in order to uncover the unique communities that exist within each culture and their distinct media preferences and consumption habits.
In 2013, Dr. Irvin was an advisor to the "TED Challenge: A Mission to Build the Next Generation of Brains, sponsored by TED (Technology, Entertainment & Design) and the Bezos Family (Amazon) Foundation, a non-profit focused on education from birth through high school. Of particular interest to the Bezos Foundation was a focus on future minority communities. Irvin was invited to TED Global 2005, Oxford University, where he first presented the global concept of "Thrivals" followed by a featured TED Talk Long Beach 2006. He has developed several TED talks sponsored on college campuses focusing on the future, including The University of Louisville and The University of Virginia.
Irvin also serves as a musical consultant and the Chief Learning Officer for Janelle Monáe and the Wondaland Arts Society, a two time Grammy nominated artistic group based in Atlanta, Ga. He is the original composer of "Ba Bop Bye Ya," which appeared on the Grammy nominated and highly acclaimed album "Archandroid" featuring Janelle Monáe with music composed by Nate Rocket Wonder and Roman GianArthur. On Janelle Monáe's highly acclaimed album "The Electric Lady," Irvin plays classical guitar on the track "Look Into My Eyes."
Dr. Irvin is a graduate of the University of South Carolina with a Bachelor of Arts degree in Philosophy and a Master's degree in Media Arts. An accomplished composer, he also holds a Doctorate of Musical Arts degree in Music Composition from the University of North Texas and is a graduate of the Institute for Educational Management, Harvard University Graduate School of Education.
Married to Chandra Goforth Irvin, the couple has three adult children.
Education
DMA

University of North Texas

MA

University of South Carolina

BA

University of South Carolina