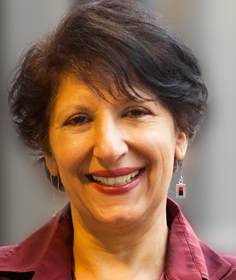 Manju Ahuja, PhD
Frazier Family Professor of Computer Information Systems, Information Systems, Analytics & Operations
College of Business, Room 384
Back to All Faculty/Staff
Bio
Manju Ahuja is Frazier Family Chair of Information Systems at the University of Louisville. She has previously held faculty positions at the Kelley School of Business (Indiana University), Florida State University, and Pennsylvania State University. Dr. Ahuja has been ranked among the top 100 researchers in the field of Information Systems worldwide by a variety of sources (e.g., 27th among the researchers publishing in top three Information Systems journals for the period 2017-2019). She appears on the Stanford University's list of top 2% scientists in the world.
Dr. Ahuja currently serves as Senior Editor at Information Systems Research. She was a Senior Editor at the MIS Quarterly (2014-2017) and the Journal of AIS (2017-2019). She has served in other editorial roles at several premier journals including Management Information Systems Quarterly (Associate Editor, 2010-2013), Information Systems Research (Associate Editor, 2006-08), and Management Science (Guest Editor).
Manju was named a Fellow of the Association of Information Systems in 2021. She is also the recipient of a Lifelong Service Award from Academy of Management's OCIS division for 2020. In 2022, she was selected for the University of Louisville's Presidential Distinguished Faculty Award for Research in social sciences. She is actively involved in research on issues related to IT workforce, AI Ethics, innovation and entrepreneurship related to IT, digital transformation, and future of work.
Manju has held visiting scholar appointments at premier institutions across the world, including HEC (Paris), University of New South Wales (Sydney, Australia), Bocconi University (Milan, Italy), National University of Singapore, University of California (Irvine), and the University of Hawaii at Manoa. She has received four National Science Foundation grants totaling over $2,000,000 for her research on IT workforce issues. Her research has been cited by publications such as Wall Street Journal, New York Times, Forbes, Times of India, London School of Economics Business Review, INSEAD Knowledge, Strategy+Business, Computerworld, and others.
Education
PhD

(Management Information Systems) University of Pittsburgh

MBA

(Management Information Systems) Pace University

BS

(Marketing) Indore University, India
Awards & Honors
Lifetime Achievement Award, Academy of Management (2020)
This honor recognizes an individual's sustained contribution to the AoM/OCIS community through significant leadership roles, as well as scholarly impact and influence. Ahuja has served the OCIS division in a variety of elected leadership roles, including professional development workshops chair, doctoral consortium chair (2008-2009), program chair (2009-2010), and division chair (2011-2012). In addition, she has been engaged in the growth and development of the OCIS community through mentoring junior and senior scholars and doctoral students. Her early scholarship contributions revolved around online communities and virtual teams. In the past ten years, her research areas have expanded to include work-life balance and remote work, gender issues in IT, Future of Work, communication media, and mobile technology usage and impacts.
$1 Million National Science Foundation Grant (2019)
The University of Louisville ADVANCE Adaptation project called the Advancement through Healthy Empowerment, Networking, and Awareness (ATHENA) is aimed at creating structures for improving equity for STEM faculty. The project will lead to the creation of an ATHENA Center for STEM Equity, which will enhance UofL's institutional capacity in STEM equity research and will help to sustain the ADVANCE Adaptation project strategies shown to be effective.
Worldwide Research Ranking #27, Association of Information Systems (2019)
Ranking based on publications in top three journals for the period 2017-2019.
College of Business Faculty Research Award, UofL (2008, 2009, 2013, 2018, 2019)
College of Business Faculty Overall Excellence Award, UofL (2013)
Recent Research & Publications