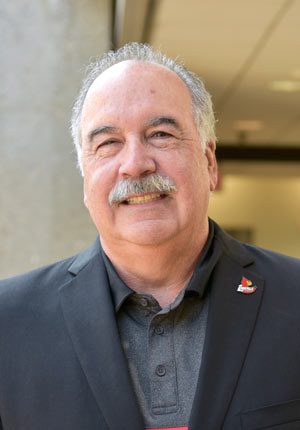 Greg Reinhardt, MEng
Executive-in-Residence and Instructor, Information Systems, Analytics & Operations
College of Business, Room 307
Back to All Faculty/Staff
Bio
Captain, United States Navy
Executive-in-Residence, University of Louisville
A native of Louisville, Kentucky, Captain Reinhardt received his BS Degree in general engineering from the United States Naval Academy at Annapolis, MD, and his Master of Engineering in engineering management from the University of Louisville. Captain Reinhardt is certified in project management from George Washington University and certified Excel from Microsoft.
After graduating from the Naval Academy, he was commissioned an Ensign in the U.S. Navy and served seven years on active duty, both at sea and ashore. Significant active-duty tours included Navigator and Main Propulsion Assistant on USS Biddle CG-34, recipient of Arleigh Bruke Award, operated in two Mediterranean cruises and a North Atlantic cruise, participated in Freedom of Seas operation with Libya in 1981, and participated in evacuation of PLO from Beirut Lebanon in 1982. In 1984, he received orders to become an officer recruiter for the Navy in Lexington, KY. In 1985, he was the recipient of the Recruiter of the Year award for the Kentucky-West Virginia region.
Following his honorable discharge from the active Navy in 1986, Captain Reinhardt was affiliated with the Selected Surface Reserve Program and has performed in a wide range of operational and administrative billets. These billets included Training Officer of Naval Control of Shipping Det. San Juan, Puerto Rico, Commanding Officer of Naval Weapons Station Yorktown, Commanding Officer of USS Montgomery FF-1076, Commanding Officer of SIMA Charleston Det 1209, Executive Officer of Advanced Base Functional Unit Headquarters for the US Navy Expeditionary Logistics Support Force, Executive Officer of Naval Surface Warfare Center Crane, IN and The Emergency Preparedness Liaison Officer for the Commonwealth of Kentucky and Navy Region Southeast. Captain Reinhardt's units under his direction have received two Leo Bilger Awards for top reserve units in two different regions and a Navy Unit Commendation. Among his military decorations are: Meritorious Service Medal with Gold Star, Navy and Marine Corps Commendation Medal with Gold Star, Navy and Marine Corps Achievement Medal with Gold Star, Navy Unit Commendation Medal, US Navy Expeditionary Medal with Bronze Star, National Defense Service Medal, Navy Armed Forces Reserve Medal with Hourglass, Navy Reserve Medal, US Navy Recruiting Ribbon, Sea Service Ribbon (one bronze star), and Navy Pistol E.
Education
MEng

(Engineering Management) University of Louisville

BS

(Engineering ) United States Naval Academy

MOS Certificate

(Excel Associate) Microsoft, 2021

Certificate

(Project Management) George Washington University, 2001
Awards & Honors
Faculty Favorite Award, 2016-22
University of Louisville
Outstanding Faculty - Undergraduate, 2019
UofL College of Business