Admitted Online MBA (OMBA) Students
---
Welcome from Interim Dean Jeff Guan, PhD
---
Welcome from our program director
---
Good Luck from the Admissions Team
The first day of class is just around the corner! We are thrilled that you've chosen to include the College of Business on your new path of growth and achievement through a graduate business degree. We know that your time spent with us will be challenging and rewarding, and we are excited about this opportunity for you to learn and grow in a truly transformative environment.
The admissions and recruitment staff may have helped you open the door, and we've enjoyed getting to know you and working with you through the application process. It is now time for us to wish you good luck, as you transition into the hands of our wonderful, professional program and student services team, who will support you every step of the way.
We'll see you at the finish line!
---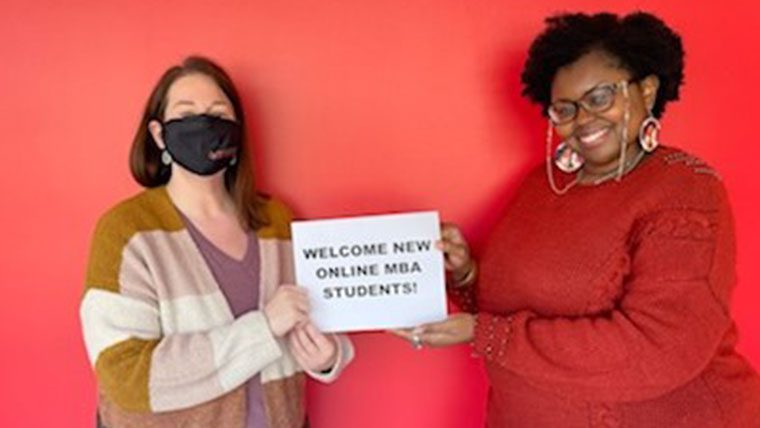 Student Services – Your Success is Our Success
Our dynamic student support center is designed to streamline and centralize the support you will need throughout your MBA journey into one, easily-accessible, service-focused team. They are your direct connection to assistance on all aspects of your graduate experience.
Erica Hulse and Sophonie Bazile are your online student support and community coordinators. You'll hear from Erica or Sophonie when there are exciting events and happenings in the Online MBA program. They'll let you know when it's time to elect your cohort president, and vice president when virtual networking events are happening, and about virtual events happening across the university and college. They can also connect you to resources for anything you would like more information about such as career services, alumni opportunities, academic support resources, and more.
Erica and Sophonie understand what it's like to complete an entire degree virtually. Reach out to Erica at 502.852.9232 or via email at erica.hulse@louisville.edu, or connect with Sophonie at sophonie.bazile@louisville.edu or 502.852.4820 with any questions you have as you progress through your program. They are here for you.
Email Online Student Services
---
GradBizLink – Your Graduate Business Info Source
You'll begin receiving our GradBizLink email communications, which will inform you about exciting opportunities to connect with others in your graduate program, student and faculty spotlights, cool stuff going on with our faculty in the business school, and fun things about campus and Louisville. You'll receive GradBizLink emails throughout your graduate experience, but those that you will receive between now and Orientation will be dedicated to preparing you for your MBA journey ahead.
---
Preparing for Your Graduate School Experience
Predictive Index (PI)
As a graduate student in the College of Business, you will participate in a variety of team activities, and in some instances, you will be placed on permanent learning teams with members of your cohort. To add to the success of your team experiences, you will be asked to take the PI assessment in advance of your orientation activities to give you and your teammates insights into yourselves and each other as you strive to work together at the highest levels. The PI is a behavioral analysis tool that measures both cognitive reasoning and inherent motivating needs. You will be sent a link via email once you've paid your deposit so that you can complete the assessment online, and then your results will be shared with you along with an overview of the PI tool so that you can best understand and utilize this new bank of insightful information throughout your graduate school experience.
Please note that you will receive an invitation to complete your PI assessment from the email address noreply@mailer.predictiveindex.com. Be sure to add this and the following email addresses to your address book for your personal email account so important messages are not sent to your spam folder: mba@louisville.edu, gradbiz@louisville.edu, and bizonline@louisville.edu.
---
Team Directories
Return to the Grad Student Portal