Coffee lovers, rejoice! Wine is, of course, Bordeaux's signature attraction. But, there is more than one locally distinguished beverage to be found in this city. Bordeaux is home to several artisanal coffee shops, cafés, and roasters, or les torrefacteurs.
Today, I present to you Bordeaux's Coffee Map or "Porcelain Trail," if you will. This map marks Bordeaux's most authentic, exceptional, and inventive coffee establishments. Each offers outstanding service, aesthetic atmospheres, and true craftsmanship in every pour. This map has aided me greatly in discovering some truly remarkable brews, so I had to share!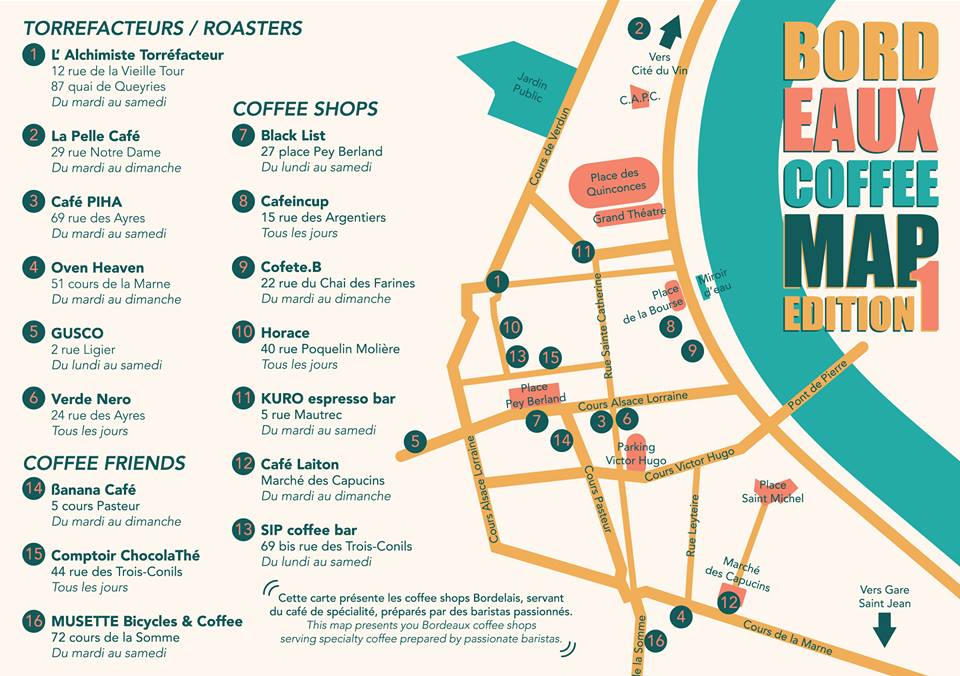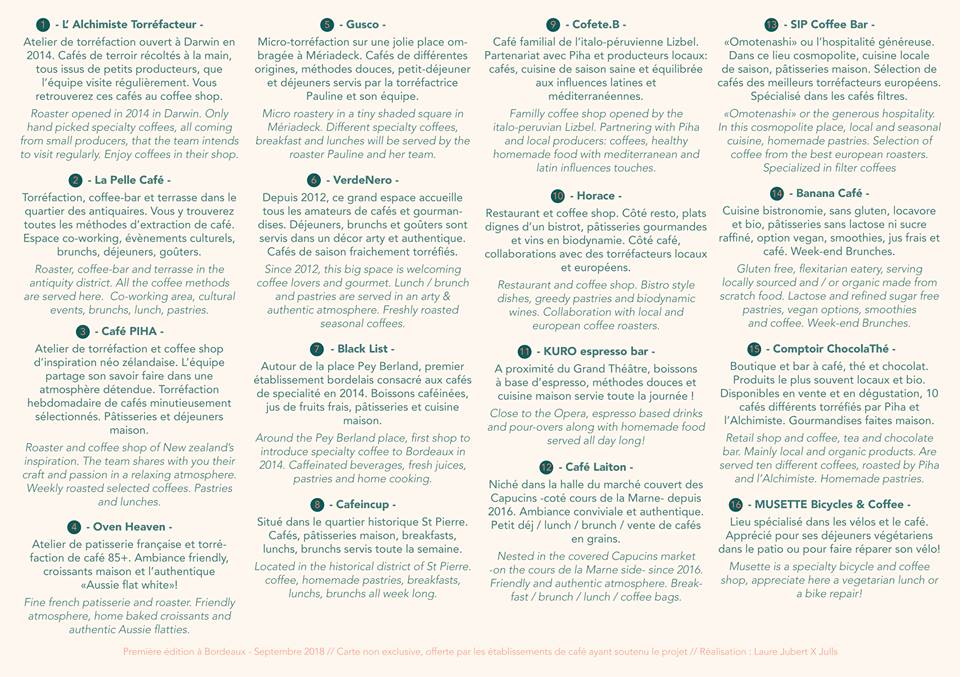 Among my personal favorites are Café PIHA and SIP Coffee Bar, as well as Books & Coffee and Saint-James (which are not featured on the map). 
I like to judge a café's quality on its humble espresso, "Un café, c'est tout!" But, Café PIHA's signature drinks are concoctions of pure genius. If you're tastebuds are adventurous, then this is the place for you! 
With their loft seating, WiFi, and laptop-squatter friendly attitude, SIP Coffee Bar is perfect for afternoons spent studying. Their unique cafés filtres are a must try. And, their carrot cake is amazing.
Books & Coffee is the coziest hole-in-the wall café. Curl up with a cappuccino and a good read during their quiet hours, or gather the ladies for a phenomenal, affordable brunch feast on the weekends. I can't recommend this spot enough!
Next door you'll find the very stylish venue of Saint-James; decorated with chic tiles, hanging plants, and modern industrial fixtures. Stop here if appearances are your priority. The stained glass windows offer fantastic lighting. Do it for the 'gram!
I hope Bordeaux's Coffee Map guides you well. But, when in doubt, follow your nose and follow the locals. They know best!