(Some of us at a wine chateau in Saint-Emilion right outside of Bordeaux)
The most interesting and enjoyable thing to me about Bordeaux and this whole experience abroad has been the variety of culture  among all of the students here at BeM.  BeM has a large focus on international studies, and consequently, there is a large international student population.  There are people from literally all over the world here.  It's interesting to take a step back and see how the rest of the world operates, in their habits, their communication, their views, their presentation in and out of the classroom, their food, their partying, and just their all-around persona.  In many ways, we're not all so different, and in many other ways, we're very different.  Our similarities and differences have helped us build a very unique student culture vibe.  I've developed some really great friends and had some really awesome experiences since I've been here.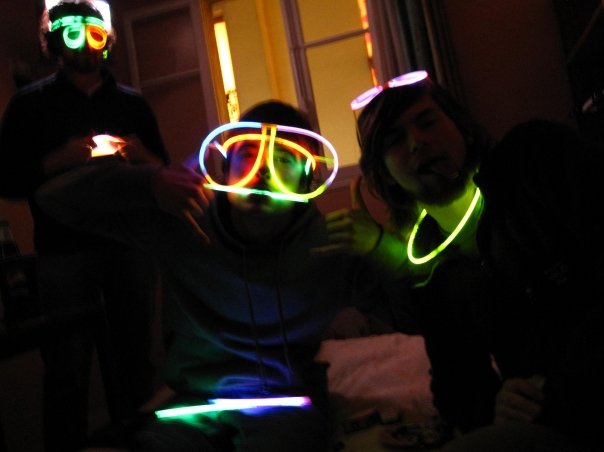 (Hassan (left), myself (right), and our very good Basque friend, Jon (center), glowing for a show in Paris)
Since the school has such a large focus on international studies, we spend a good amount of time in our classes looking at subjects from an international perspective.  For instance, when we split into teams for case studies, it's interesting to see how different the approaches taken are among the different teams.  Or even more so, it's REALLY interesting to be a part of a team composed of students from three or four different countries, proposing different solutions among us, and working together to comprise a final solution for the case.  I know that this international experience is greatly preparing me for future ventures of my own that will indeed involve intercultural teamwork.
The French students of BeM are very involved.  There are many student organizations, such as Melting Potes, the international student organization that has helped a lot in integrating us into the student life here, The Sports Association, The Art Association, and many more.  All of them are always organizing different events and trips and parties, so it's been very easy to get to know new people, both French and international students.  This experience has been a blast so far, in meeting new people, developing good friendships, traveling, and learning in a little different style.  Anyone who is considering this abroad experience, I would highly encourage you to take it.  I myself was a little unsure when this opportunity just presented itself to me out of nowhere, thanks to Allie Goatley.  But the experience has been a once in a lifetime opportunity that I'm so glad I jumped on.
-Matt Eldridge