In Spain you get one week off of school around Easter but with no Friday classes and skipping a few days of school, two of my friends and I made it into a two week adventure. In two weeks we were able to visit London, Stockholm, Copenhagen, Berlin, Prague, and Budapest. If you count Spain, we were in seven different countries over the span of two weeks. While all of these cities were fun and interesting in their respective ways, Berlin and Budapest had to be my favorites. Both of these cities were heavily affected by the second World War. They both endured a lot of damage from the war and have since been rebuilt. I enjoyed learning about these cities and seeing how history helped shape them. Every city in Europe has free walking tours and you should take advantage of them. They are a great way to see the city and learn. We usually did them on our first day in a new city and that helped us to better understand the layout of the city and the tours always gave good recommendations of other places to visit.
While in Berlin there are a few things you must do. I would recommend eating the bratwurst and the currywurst.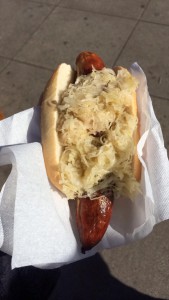 Two of my favorite places that I visited were the Berlin Wall and the Memorial to the Murdered Jews of Europe.

I had no idea what to expect when going to Budapest, but it ended up being one of my favorite cities. Over 80% of the city was damaged during the second world war and over 10% of the Hungarian population was killed. When they went to rebuild the city only two districts received funding so you can still see a lot of the damage. I stayed at a hostel called Vitae, which I would highly recommend to anyone, that was located in the Jewish district. Near the hostel there are many building that were damaged during the war that have been turned into ruin bars. The best place to eat is named Bors. They have sandwiches and soups and a full meals costs somewhere around three euros. Also while in Budapest you have to go to the baths. You can spend an entire day relaxing in the saunas and indoor and outdoor baths. Budapest is a cheap place to visit and it is an extremely interesting city with a lot to do. If you visit Europe I highly recommend you visit Budapest.