Hey guys,
I hope everyone's semester has been everything they expected and more! This semester has been full of adventures and many learning experiences. Arriving to Spain was quite possibly the scariest thing I've ever been through because it was my first time traveling alone and my first time in Europe. When I arrived in Getafe, which is where Universidad Carlos III de Madrid is located, I was very surprised to see that it wasn't a big buzzing area. Getafe is a smaller suburb outside of the center of Madrid and it is where I lived during my stay in Madrid. After spending four months in Spain and traveling around Europe, I've learned a few things. I will list them in categories.
Madrid, Spain
Living arrangements
The first thing I would recommend is about living arrangements is that you look at your budget. Living on campus dorms can be a great way to meet people easily, but it is also very expensive. You can find a decent place to rent in Getafe for about 230 euros. Living in Getafe is great if you want to be near the University, but if you want to be in the city and go out, I suggest you look into living in Sol. Going to the city from Getafe takes about 20 minutes on the train and the last train to Sol and back to Getafe runs at 11:50 PM, so if you think you want to stay closer to all the buzzling center it might be better to live there, but it is expensive and rent can be up to 500 euros a month.
Places to eat
1. El Eskinazo It is a very cheap and good place to eat near the University. You get a free tapa with any beverage purchase.
2. 100 Montaditos A great place for tapas. Every Wednesday and Sunday they have euro tapas.
3. La Bicicleta A wonderful café in Malasana that serves a great breakfast. If you're looking for a place to study besides the library this is a great place to do so.
4. La Malquerida If you like Mexican food, this place has great tacos and on Wednesdays they have tacos for a euro. Be sure to make a reservation because on Wednesdays they only do seatings if you have a reservation.
5. Lavapies If you're looking for Indian food, this area of Madrid is lined with them and they are also very cheap.
Things you must do
1. Attend a soccer game or do a stadium tour. It is an amazing experience and you really get to feel the love for the sport. You can attend a Real Madrid game or an Atletico Madrid game. Tickets can be as low as 15 euros. The picture below was taken at the Real Madrid vs Shakthtar match.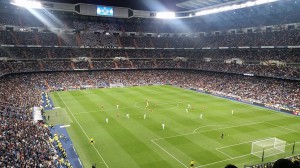 2. Go to El Rastro. El Rastro is a market that happen every Sunday in La Latina. It is a great experience and a great place to get cheap artisan items.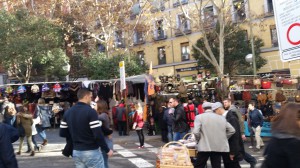 3. Try hiking outside Madrid. I wish I would've hiked in more places outside Madrid, but it's a great experience to see outside the city. I hiked in Cercedillas, but Navacerrada is also a good hiking spot.


4. Attend an event in Madrid. I attended the Holi Run, which is much like the color run and it was a great event. I suggest you try to keep an eye out for any events that may interest you.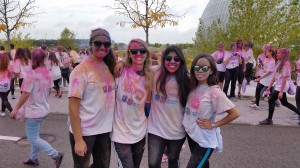 Traveling tips
1. Book your tickets as early as possible. If you can, plan your travels early because tickets can get pretty expensive. I've found tickets starting at 15 euros, but I've also payed 200 euros for a plane ticket.
2. Try different methods of transportation. While the most common ways to travel are by plane or train, I discovered BlaBla car is a great and cheap way to travel. BlaBla car is a safer version of hitchhiking. A person may be traveling to a different city and has extra seats in their car so they put it up on a website and you can reserve the seat. I used it travel within Spain and I also used it to travel to Portugal. It is safe but I wouldn't recommend you go alone
3. Don't be afraid to travel alone. I took my first trip alone to Paris and it was amazing. I didn't I was going to have fun because I was alone, but I was surprised to learn that many people travel alone and you can easily make friends anywhere you go. I also loved that it was empowering.