Hi Cards,
After 20 hours of flight, I finally made it to the sunny Dubai.  While home may be icy with delays and cancellations, I've been making my way to the great outdoors.  I spent my first few days here settling in and checking out the area before my internship began.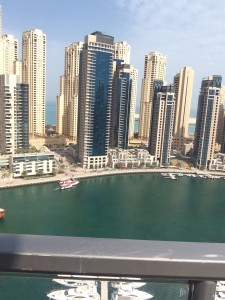 I went to the infamous Dubai Mall, which is the largest shopping mall in the world!  It seems to be a shopping festival, and many of the shops are 50% off.  Too bad I am only window shopping 🙁 .  On the outside of Dubai Mall there is a walk with the Dubai Fountains which are a larger version of the fountains in Vegas.  They are amazing!! They are also shooting up into the sky in front of the Burj Khalifa, the tallest building in the world.  It is huge!! I want to book this weekend to go to the top of it as they have an observatory.  Oh and I had lunch at Texas Roadhouse haha, who would have thought I'd get to enjoy steak and cinnamon buttered rolls here!
So far, I am enjoying life in the sunny Dubai and my internship has been going well as I have been settling in this first week and getting to know the people and tasks.  I hope to have more adventures to share as I go on and post pictures as well.  I would like to explore some of the surrounding Emirates on the weekends!
Until next time,
Lauren