Situated on the southern coast of Croatia, the city of Dubrovnik is surrounded by the bluest water of the Adriatic Sea on one side and the most picturesque mountains on the other. I only spent one day in Dubrovnik, as we were passing through returning from the island of Hvar, but during my short visit, I was able to get a quick glimpse of the culture and history that this city was founded on.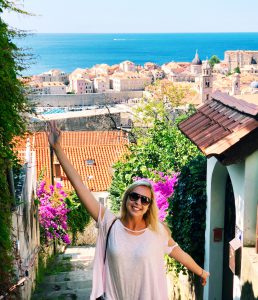 The main city center, known as Old Town, is entirely surrounded by huge stone walls. These castle walls were completed in the 16th century and were used as barriers and protection from attacks during the Middle Ages. Inside the walls, hundreds and narrow alleys and roads line the space, and countless restaurants, apartments, churches, and shops fill each and every crevice. One of my favorite things I did in Old Town was just wander around without a map or set destination. The roads are so intricate and tangled, but I enjoyed just walking and observing, not knowing what I was about to find. After walking for a while with no direction, we passed a hand-made soap shop and ended up talking to the owner, a Dubrovnik local, for nearly an hour. For lunch, we did the same, and found a small, hole-in-the-wall spot which is favored by locals. Whether you want to wander without a set direction or participate in a guided group tour to learn even more about the history of Dubrovnik, I would highly recommend spending a large amount of time inside the walls of Dubrovnik immersing yourself in the culture of the unique city.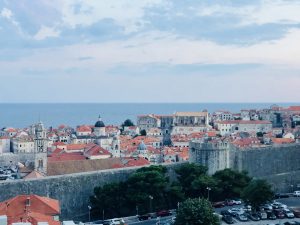 You can't visit Dubrovnik and not take a cable car ride up the side of the mountain. The four-minute ride offers unbeatable views of the entire city and coast line. We went up at sunset and ate dinner at the popular Panorama Restaurant.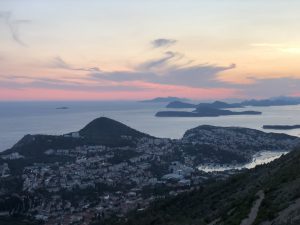 Although I only spent a short amount of time in Dubrovnik, it is by far one of my favorite places I have ever visited. I was amazed at all the history Old Town has to offer and stunned by the breath-taking views. It is definitely a location I would love to visit again and would highly recommend to others!