1. My scenic walks to school
One of the main things that I miss about Sevilla is my walk to and from school every day. I'd leave my host family's apartment in Los Remedios, the business district of the city, cross a busy bridge over the Guadalquivir River that runs through Sevilla and connects it to the more touristy part of the city. Then I make my way through Parque Maria Luisa, Sevilla's principle green area that serves as a botanical garden and has as monuments spread throughout. However, the most impressive part of my walk was when I'd reach the park's centerpiece, Plaza de Espana. It felt like I was in a movie with how beautiful and scenic everything was.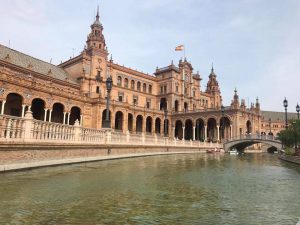 2. Never being bored
I was never bored in Sevilla. There was always something fun and interesting to do. Whether it was attending a bull fight at the local bull ring, going canoeing on the river, going to Flamenco shows every Thursday night, or even just going to the riverfront to share a bottle of wine with some friends, I always had something to occupy my time with. There was even a huge wooden structure in the shape of mushrooms in the middle of the city the locals referred to as Las Setas that we would go to for the best sunset view. I truly miss how easy it was to make exciting and spontaneous plans on a regular basis.
3. Exploring the different neighborhoods
There were a lot of students in my program and our housing was separated into four neighborhoods: Porvenir, Nervion, Triana, and Los Remedios. I was able to walk and bike to the other neighborhoods easily, and I always felt safe wherever I went. An area in Porvenir locals referred to as La Juderia (the Jewish quarter) was one of my favorite places to explore because it was the epitome of what you would expect a Spanish neighborhood to look like: narrow, cobble-stoned streets with colorful buildings that were a range of tapas bars, cafes, and boutiques.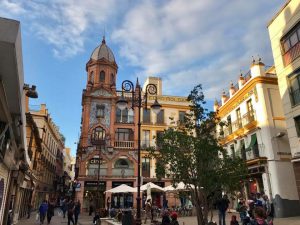 4. My host family
Staying with a host family definitely had a positive impact on my study abroad experience. My host parents were very caring and dependable and helped get me accommodated to the Spanish lifestyle. Although they were older and felt more like grandparents to me, they were very energetic and always seemed genuinely happy to see me every time I came back from classes or a weekend trip.
5. The friends I made
I made some really strong friendships during my study abroad experience and I think it's due to the fact that we all bonded over being on our own in a different country for an entire semester. I got to experience so many new and incredible things with the people in my program and I learned a significant amount about myself and about life in general with them.