After my first couple of weeks in Prague I can honestly say that I have already fallen in love with this city. Traveling abroad is everything people said it would be and more- overwhelming, amazing, tiring, terrifying, and completely eye-opening.
I hate that I have been here for 3 weeks already yet it has taken me this long to make a blog post, however if I'm being honest I have attempted to start one multiple times but would always end up frustrated and put it off because I could not quite find the right words to describe how completely amazing this trip has been so far. My first week spent in Prague was easily the most unforgettable time of my whole life. Although I may not have gotten nearly enough sleep, I spent the whole time exploring the ins and outs of this unbelievable city with some of the greatest people you will ever meet. The really cool thing about studying abroad is that you meet so many people from all over with entirely different backgrounds than you, however you all have one thing in common: the curiosity, bravery, and desire to travel and explore both yourselves and things around you. I think it really takes a certain kind of person to study abroad and I have absolutely loved sharing this experience with such diverse and fascinating people.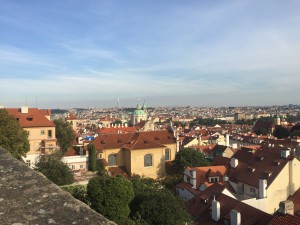 Our first weekend, 6 of us decided to take a trip to Vienna, Austria as our first excursion out of Prague… and let's just say it was a learning experience. Vienna is definitely an awesome city with lots of cool little quirks about it such as extravagant Churches, Palaces, parks full of people dancing and singing, beautiful vineyards, and most importantly an awesome Amusement Park/Bar called Prater where you can easily spend all of your time (and money) at. Our mistake was going to Vienna without an actual plan and we ended up kind of wandering aimlessly around at times, spending way too much money on train tickets as a result of not planning ahead of time, and personally I was miserable because I ended up spending the whole weekend sick. I feel like this is typical of a first weekend trip though so if anything it just taught us what not to do for the next time.
The following weekend a group of us went to Munich, Germany for the opening weekend of Oktoberfest and it was absolutely insane. While the weather was rainy and cold in Munich all weekend people were still lively as ever waiting for the festivities to start. It was especially cool to be there for the opening day on Saturday. We had to get there for around 9am to be able to secure a spot at a table in a tent where we then ate and waited for the tapping of the keg at noon to kick off all of the Oktoberfest festivities. After that the place went insane but it was one of the greatest times I have ever had. One of the best parts was just meeting people from all over the world and getting to know them through this crazy experience. For example, on Sunday we met a group of 22 year old Italian military guys and although they did not speak great English we still spent the day with them and they taught us various games, traditions, and "cheers" from their hometown. We also made sure to make some time to run around and explore the city of Munich for a little bit as a break from the craziness of the festival. The cold and rain kind of put a damper on this but Munich is still a beautiful city and we found that if you go to the St. Peter's Church- "Peterskirche"- with a student ID you can climb to the top for only 1 Euro and see the most breathtaking view of Munich. All in all Oktoberfest is an over the top experience- sooooo expensive and tiring- but 100% worth it if you can manage to go. I would recommend it to anyone… I really still cannot believe that I was actually there.
There is a quick little update of my first weeks here in Europe! Although my classes are actually really difficult and adjusting to living in a whole new environment has been more tiring than I though I am loving every second of it. I cannot believe I have been here for three weeks already… time needs to slow down! Next stop: Split, Croatia.