In case your German skills are a bit rusty, or nonexistent like mine were, the title translates to "Greetings from Germany!" I have been fortunate enough to spend six months in beautiful Deutschland and I have enjoyed every second of my time here so far. This post I am dedicating to my travels. So prepare yourself, this might get a bit lengthy. 😉
Definite Rating of the Countries I Have Visited (So Far)
9. Slovakia (Bratislava)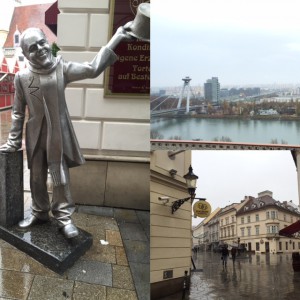 I think I am being unfair to Slovakia, but there has to be a shortcoming. So I will say this, Bratislava was beautiful, however, a little small. The city is notorious for vine yards and the Danube River, which runs through it. In fact, there is the "Altitude Restaurant" which you MUST visit. Nowhere else will you get a view or experience like the one you will get eating here. I happened to have some of the best tasting food in Bratislava as well. I regret ranking the city last because it is not crowded with tourists and you will get a true authentic experience visiting it. There are plenty of things to see here like the castles, and Bratislava has some really interesting statues throughout the city. I guarantee you will enjoy yourself for a weekend.
8. Spain (Madrid)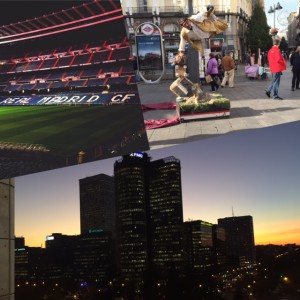 Madrid absolutely broke my heart. Back story, I have never been to Spain and I have had a huge fascination with the country, Madrid in particular, for a very long time. However, once I finally visited, I was so disappointed. Dare I say, Madrid was a little ghetto for me. I guess I had such high expectations for Madrid and in the end the city did not live up to the beauty. However, Spanish people are absolutely amazing and super friendly. The highlight of my trip was definitely the shopping and visiting estadio Santiago Bernabéu (Real Madrid's soccer stadium). The plus side is that Madrid is so big you have plenty to do. My best friend also studied here and she says the night scene is amazing.
7. Switzerland (Lucerne, Rhine Falls, Zurich)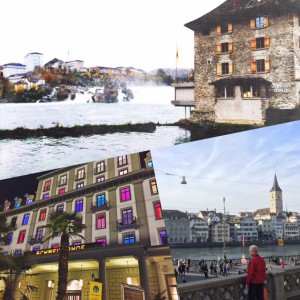 Beautiful country, but a little too calm for me. That about sums up how I felt about Switzerland. I got to visit Switzerland at the beginning of my studies when it was still relatively warm and I really enjoyed my time here. There is a lot to see and experience. The cities and the Rhine Falls were, again, very beautiful. However, like I mentioned, it is a little too peaceful for me here. Also, Switzerland is very expensive and that is something to keep in mind. I will throw this one last bit out there, if you are into skiing, I had a few friends go ski in Switzerland over the holidays and they had a great time. Just something to consider.
6. Austria (Vienna)
Austria is like the sister of Germany. If you have visited Germany and you then go to Vienna, you will feel like you are in back in Germany. Vienna is one of the most artistic cities. There are so many museums you can visit here. My favorite would be any displaying modern art or music. Also, I particular enjoyed the opera house. All and all, there is plenty to see in Vienna if you are into arts and culture.
5. France (Paris)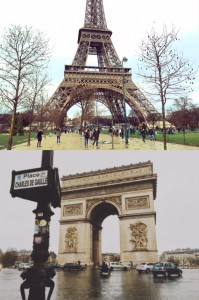 I went to Paris during Valentine's Day weekend and all I can say is that the city was truly magical, even if it rained all weekend (it almost always rains in Paris btw). However, Paris is Paris and everything you expect to be true about it most definitely is. The city is crowded with tourists so do not expect too much of an authentic French experience in Paris. However, the city has pretty cool clubs and plenty of monuments you can pose next to. I recommend buying an all-day metro ticket to save money AND because it is nearly impossible to see the whole city and all the touristic sites without the metro.
4. Czech Republic (Prague)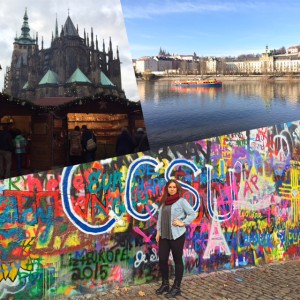 Prague is oftentimes referred to as the Paris of central Europe, and rightly so. Prague is absolutely beautiful and there is so much to see in the city. From churches and cathedrals, to castles and museums, and walking along the Charles's Bridge, I promise you will need more than a weekend to see everything Prague has to offer. I particularly enjoyed Old Town Square and visiting the Jewish Museum. However, I do have a few tips. First, it is nearly impossible to find a place to eat if you are trying to do so directly in the city center. Most places are fully booked. Also, regardless what others might inform you of, Prague is not that cheap and if you are in the city center, you will definitely be running to the ATM machine if you do not have enough Czech Crowns exchanged. Also, be wary of the service in restaurants. The Czech people are not necessarily the nicest. My last recommendation, you must visit the largest club in central Europe, Karlovy lázn?.
3. Hungary (Budapest)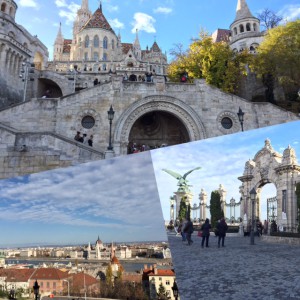 You need a week to see this city. Plain and simple. Actually, you probably need more than a week. Budapest is unlike any other place you will visit in central Europe. If you are like me and love to take tons of pictures of really cool buildings, architecture and amazing monuments, then this is the city for you. Hungary is known for its word famous thermal baths so if you visit, I would recommend checking them out. Also, if that is not enough to convince you to go to Hungary, then the fact that this is probably the cheapest country in the European Union should be. I am not exaggerating when I say this, especially for a capital city, Budapest was very cheap. At the end of my stay I had to think of creative ways to spend my money because I did not want to take so many Hungarian forints to Germany and exchange them back into euros.
2. Italy (Venice, Florence, Milan, Pisa)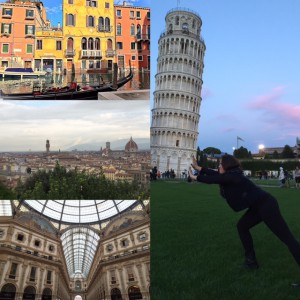 I do not even know where to begin with Italy. In fact, the country is just as magical as it is made out to be. Venice is one of the most beautiful cities in the world. There is so much to see and do here you will never want to leave. The same is true for Florence. In fact, if Florence was a country, it would be my favorite. You could spend hours walking the streets of Florence and not get tired of the beauty around you. Also, if you love beautiful architecture and art, then you must say hello to the home of the Italian Renaissance. In regards to Milan, there is not as much to see here as there is in Florence and Venice, however, if you like fashion and shopping then there is no other place more fitting. Milan after all, is one of the fashion capitals of the world and you will need more than a day to hit all the stores. Pisa is a bit more different and in fact not what you would expect of Italy. There is hardly anything to see here besides the Leaning Tower and two more monuments which are located in the same location as the tower. I would not recommend getting lost at night in Pisa. It can be very scary.
1. Germany
I could not resist making Germany my number one because it truly is my favorite place in Europe. There is so much to do here. From festivals, to markets, to sporting events and music festivals, Deutschland is always buzzing with activity. Need I mention that Germans love to party and are amongst the best drinkers in the world? Bars in Germany are superb and open all the time for anyone looking for a good drink with great company, especially during a fußball (soccer) match. German history, the ancient castles and beautiful scenery, the beer, their amazing food and sports, and the big cities are enough to convince anyone to visit Deutschland, but I recommend visiting the smaller, less known places as well because that is where German magic lies. Ever heard of Heidelberg?
Bonus: Bosnia and Herzegovina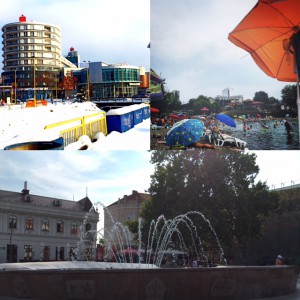 Bosnia is the hidden treasure of the Balkans… It is also my birth country. I would never shy away from recommending it as a place to visit. For those who do not know much about the country's history, Bosnia was almost destroyed by a war that occurred not that long ago. However, despite the tragedy, today the country flourishes and is a very popular country to visit for those who want to learn about it. Tuzla, Sarajevo, Banja Luka and Mostar are great cities to go to if you want to experience Bosnia's history and be greeted by beautiful scenery and warm hospitality. I would, however, recommend visiting Bosnia in the summer. Unless you like lots of snow, then by all means Bosnia is the place for in the winter.
That's all for now! Enjoy 🙂
– Dzenita