Hola, Que Pasa Contigo Tios!!
I am Kamero Amani Neblett, a rising Junior, a Finance major and I am currently studying in Sevilla Spain which is absolutely one of the most beautiful experience I have ever had!!
I am studying abroad with the International Studies Abroad (ISA) program for two summer sessions. So I've been here since the end of May and I will return to Kentucky at the end of July! The first summer session group has left and the second group has recently arrived so I want to tell you about my amazing experience with ISA in Sevilla.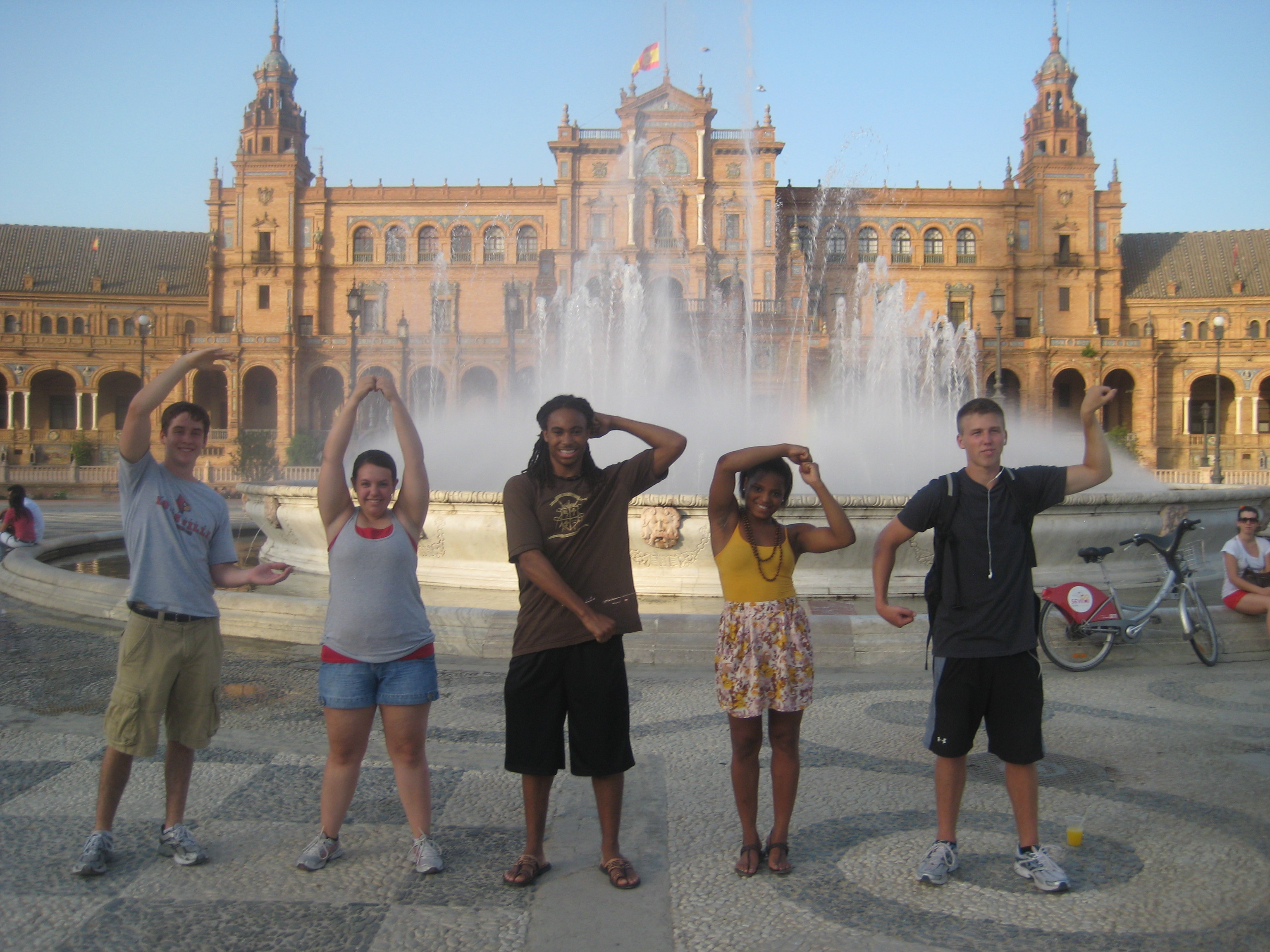 Great Decisions before Leaving
Before leaving for Spain, I did a little studying on the culture and history. Also, I tried not to develop many expectations but to only have an open mind to the differences of the Spanish culture. It has turn out to be a great decision. The Spanish people love to teach willing students or travelers about their way of life. I also chose home stay for the very reason of immersing myself into the culture, and it was an "Perfecto" decision. And lastly before I left I signed up for mostly Spanish courses. These teachers have been the best Spanish professors I have ever had and my knowledge of Spanish has increased dramatically.
Learning Spanish
It is important to have purpose or an idea of what you want to get out of your study abroad experience. Many of the American students here want to accomplish the ultimate goals of Fun and more Traveling. Those are great goals and I have accomplished both, but if you want to learn Spanish it can create a trade off. I thought it would be easy to learn Spanish in Spain, however, I definitely have to make daily and special effort to avoid speaking in English. Weird right? But this study abroad program is mostly American students and the staff are able to speak English therefore the students rather speak it to converse efficiently. So, unless you make a special effort to immerse yourself with the local people you may find it difficult to improve your Spanish, especially if your staying only a short time.
This is how to do it:
First sign up for home stay! Out of the 150 students (over two sessions) in ISA, I've only heard of one family  who knew English. It may be rough at first, but you quickly learn how to survive.
Sign up for Spanish Courses! I have had three Courses in Spanish and two professors. (I have also taken an International Finacnce course). I've taken beginning Spanish and I am now in intermediate Spanish. My schedule is a little crazy this month with one class for Four & Half hours with breaks, but its worth it. Both professors have been amazing! The classes are small and they know how to teach Spanish not "Spanglish". It is also a lot of fun because you also learn a ton about the culture through the language. Also, they often gives us homework that requires us to talk with locals and go to certain places in the city to use what we learned. If your plan to come for a semester and not a summer your schedule would be more civilized.
Solo en Español! Tell all the directors and the people you see often to only speak with you in Spanish. The directors speak English to run to program more efficiently, but after the important things are covered use them to practice your Spanish. Also, have them let you know about more things around the city you can get into.
¡Intercambios! These are the best! Basically, ISA pairs you up with a willing student to help you with Spanish and you help them with English. My intercambio already knows English so we mostly talk in Spanish. The cool thing about it is that there isn't anything formal about it. You basically become friends who hang out and talk. My intercambio has introduced me to her friends, taken me to parties and beaches, and taught me more about Sevilla. A friend of for a lifetime.
¡Estudia! The classes aren't hard but to really understand the language you need to study a little every day. At least that's how it is for me. However, it can be very difficult to study when there are so many things to do. Espically at night, I believe Spaniards don't sleep.
Get involved! Make sure you attend as many events the program sets up for and ask them about other jobs or volunteer work you can do in the city. This is really good because you have responsibilities that you will have to conduct in Spanish.
Home Stay!
Home Stay is the bomb! Many students got apartments instead of home stay for various reasons I do not understand. I am living Fabulously! My family lives in an apartment with 3 rooms, 2 bathrooms, a living room and a kitchen. My family consist of an Señora, Señor y dos los perros. They have no children unlike other families and they housing my roommate from Nebraska and I. My Señora cooks the best Spanish dishes three times a day (which is my favorite part). She makes us bocadillos and other snacks every excursion we go on. She washes, folds and irons our clothes! Once a week she changes our sheets and towels. She gives us ultimate privacy! Our Señor mostly watches T.V. and always willing to talk if we have questions. Honestly I feel spoiled living like this.
It sounds all Fun but come Prepared!
A few students have had unfortunate things happen to them and even I received diarrhea by eating all the food from an excursion to Morocco. Spain is pretty safe for the most part, but there is theft. In Madrid, one student got his bag stolen by a cab driver who drove off with it. Other things you should think about is the exchange rate and phone calling, because many student have lost a lot money by not dealing with those things wisely. Females should stay very cautions toward the very aggressive Spaniard guys, especially when drinking at bars or at clubs. You can have a lot of fun but don't become careless or let your guard down.
Paz
Kamero Amani Neblett