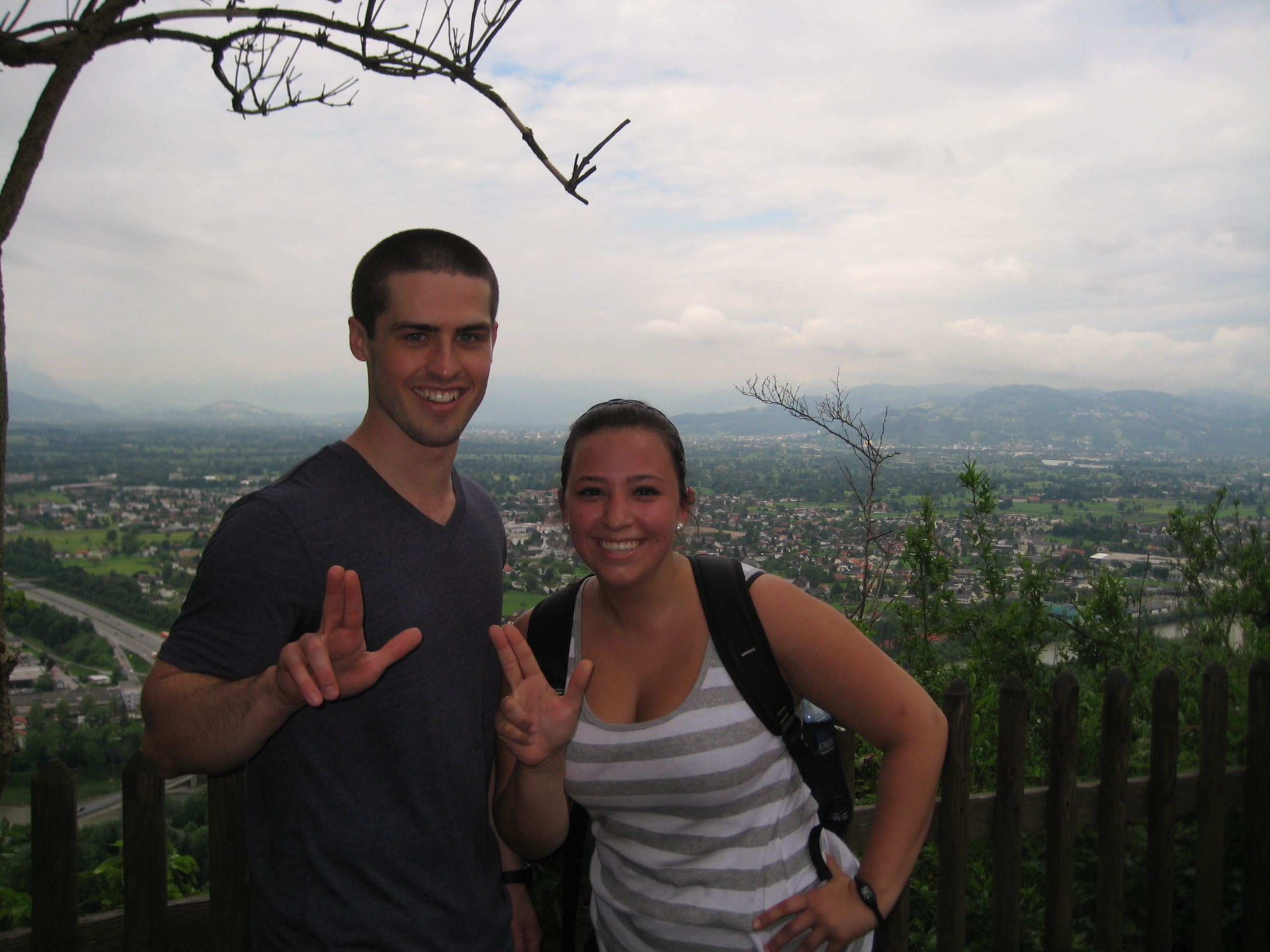 Above is a picture of Adam and me on our hike up a hill that overlooks Bregenz, Austria. 
So I'm back for my second time studying abroad in my undergraduate degree! Last year, I studied in Bordeaux, France for six months, and this time around, I am doing a summer study abroad in Bregenz, Austria. When I returned to Louisville last year from France, I couldn't wait to have the opportunity to study abroad again, and I'm very excited to be back!
So far, Bregenz has been an amazing trip. We have only been here for 3 weeks, and we've already traveled to several towns around Bregenz and to Munich, Salzburg, and Vienna. The first weekend we were in Bregenz, we travelled to Feldkirch and Lindau. The second we visited Munich and the Neushwanstein Castle near Munich. The third weekend, we visited Salzburg and Vienna. My favorite of all of these cities has definitely been Salzburg. I didn't realize how much there was to do in Salzburg, but once we arrived there, I didn't want to leave. People played music in the streets as we walked the streets where Mozart was born, we visited a castle that overlooked the city, and we visited the beautiful dome in the city center.
This coming weekend, Adam (the other UofL student on this trip) and a few of the other students from the KIIS program and I are going to Interlaken, Switzerland and Stresa, Italy. Interlaken is in the Alps, and we will be taking a train to the tallest mountain in Europe. Stresa is a small town on the Italian Lakes but near Switzerland. There, we will take a boat tour to an island and take a cable car to a mountain that overlooks the town and lake. I can't wait!
The program in Bregenz ends in a week, but I can't believe it! It seems like we arrived here just a few days ago! The two classes I'm taking here are International Business and German 100. I love my International Business class because we've been learning about business practices in different cultures, and I'm definitely enjoying my German class. The two languages I speak fluently are English and French, but I'm excited to learn German and hopefully be fluent one day. As regards to the German language, being around people who don't understand me and where I can't express myself has definitely put me out of my comfort zone. Although it has been difficult, it has been an opportunity for me to learn a new language! I had never been interested in learning German as a third language before this trip, but after these past few weeks of speaking German in Austria, I am planning on taking classes when I get back to Louisville!