While studying abroad one of the things you should think about is to travel to the surrounding cities or towns near your location. In my stay in Shanghai, I have had the opportunity to visit some of the beautiful cities around it, as well as Beijing and Hong Kong.
Xitang Water Village, Jiaxing City: cobbled streets, old buildings, bridges arching over canals, rowing boats lingering on the river and locals singing folks songs or selling traditional food are some of the features and charms of this place. Besides entering into a deep part of the Chinese culture, here you can try exotic foods as well as experience a gondola ride. It is only about one and half hour from Shanghai and there are busses leaving for Xitang Bus Station from 7:20 a.m. to 6:30 p.m every day.

Xitang Water Village
Hangzhou, Zhejiang: as the southern terminus of the Grand Canal, the city is located on the lower reaches of the Qiantang River in southeast China, a superior position in the Yangtze Delta and only three hours far from Shanghai by bus. Some of the touristic attractions that I visited in this city are: Lingyin Temple, which is one of the largest and most important Buddhist Temples of China; "Fei Lai Feng" or "The Flying Peak, a 209 meters' tall limestone mountain that shelters about 330 Buddha stone statues; and Leifeng Padoga, the oldest colorful bronze pagoda in China that allow tourists to appreciate the nearby Lingyin Temple, enjoy the landscapes of West Lake, and even see the city of Hangzhou from a distance.                                                  Lingyin Temple
Anji, Zhejiang: It is an eco-tourism destination which is about 4 to 5 hours from Shanghai city, and about 1½ hours from Hangzhou by bus. This town is an impressive Bamboo Forest which gives tourist the opportunity to hike and interact with nature. Nowadays, the forest is called "Anji's Grand National Bamboo Forest". Another attraction is the tea gardens where you can see all the process of making tea and at the same time buy some at reasonable prices.
Anji's Grand National Bamboo Forest
Beijing: s the capital of the People's Republic of China and the world's third most populous city proper. This city resumes all the history, traditions and politics of China, so it has many important places to visit: The Great Wall, Forbidden City, Tiananmen Square, Summer Palace, Temple of Heaven, Ming Tombs and other. Visiting this city is not really expensive, but be prepare for the weather, the pollution can make the temperature worst.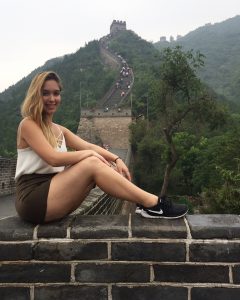 The Great Wall
Hong Kong: one of the world's leading financial, banking and trading centers. It is made up of four parts: Hong Kong Island, Kowloon Peninsula, the New Territories and the Outlying Islands. The prosperous island is the center of economy, politics, entertainment and shopping with its southern part noted for sea shores and bays. Kowloon is another flourishing part where Tsim Sha Tsui, Yau Ma Tei and Mong Kok are the most popular destinations. The New Territories and Outlying Islands are ideal places to experience a peaceful and natural holiday. I made a weekend trip to this city from Thursday to Sunday and I had the opportunity to visit some touristic places: Hong Kong Observation Desk: Sky100, Hong Kong Disneyland Park, Avenue of Stars, South Bay Beach and some streets in the center of Yau Ma Tei Island. It was a really cool trip and I wish I could have stay longer but it's important to consider that Hong Kong is really expensive compare to the rest of China.
South Bay Beach
I hope this information will help when planning future trips to china. See you in my next and last post!