Versailles
Since Versailles is only 30 minutes away from Paris by the RER, it is an accessible sight to visit right outside of the city.  Versailles is most famously known for the beautiful palace and the extravagant gardens.  My favorite part was just walking around the gardens and finding hidden treasures in the vastness of the beauty.  Versailles can easily take you the entire day with its great size, so make sure you bring your comfortable walking shoes, water and your camera, of course!
Loire Valley Region
Loire Valley is known for many things.  Their weather, the wine, but most importantly the chateaus.  There are over 300 different chateaus in the Loire Valley, which makes for a great day trip or a long weekend.  All chateaus are within a 2-hour range, making them easily accessible based on your route.  Personally, the chateaus I got to visit were Amboise, Chateau de Chambord, Chateau de Chenonceau.  The trip was split up in between two days, and I was able to explore and spend the night in Tours for pretty inexpensive.  Tours is a great little town which encompasses the culture of Loire Valley and could also make for its own great day trip.
Nice, France
Although I was in Nice for a weekend, it was still an easy excursion to take when visiting Paris.  For the cheapest option, you can take the train round-trip for about 120 euro easily.  The trip by train is a little over 5 hours, or you can take the night train (like me), if you want an even cheaper option.  While train is usually the fastest way around Europe, Nice does have the second largest airport in France, so there are flights from Paris to Nice daily.
Once there, you can easily embrace the beauty and tranquility of French Rivera.  Most of my time was spent enjoying the beach (since there are none in Paris!) and relaxing.  With warning, the beach is all rock instead of sand, so make sure you invest appropriately! While the coast is very alluring, I also recommend wandering the streets of Nice.  Exploring this quaint town will reveal the colorful French style buildings, a café on every corner, and gelato to die for.  Overall, the trip was a great experience to reveal what typical European coastal city life is like.
Brussels
If you're looking for a quick way to escape France for a bit, Brussels is the perfect way to explore a new culture.  Since it is only an hour and a half away by train, it's the ideal day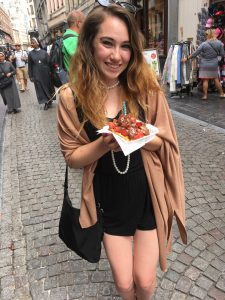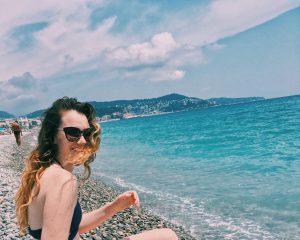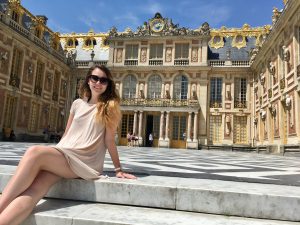 trip.  If you don't know already, Brussels is famous for waffles, chocolate and beer, and luckily you can find one of those three on every street.  I have never seen such extravagant waffles and so many chocolate shops in my life! Majority of the day was spent walking around the Grand Place are admiring the beautiful architecture and roaming the streets of the city.  It was a lot of walking, but it definitely came along with a lot of fun and memories!