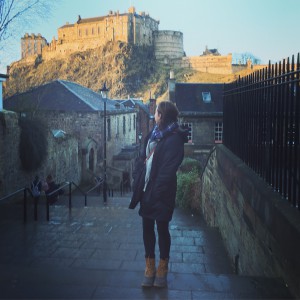 There are so many choices and different places one could study abroad. I know it is a tough decision, but I am going to tell you why I am happy that I chose Edinburgh, Scotland.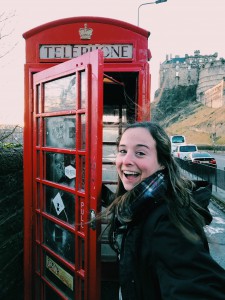 I love this city for many reasons, one being how small it feels, even though it is the capital of Scotland and is actually rather large. Edinburgh is divided between the old town and the new town. The old town has a lot of history and is full of very old and beautiful buildings while the new town is full of more modern buildings, shopping, and residential areas. You can get to one main attraction to another in just a short walk. One thing about Edinburgh is that the only form of public transportation is a bus system, but I find that I walk everywhere anyways.
Speaking of main attractions, there is obviously the Edinburgh Castle, which is located in the old town. The castle has a really cool tour, where you find out a ton of information about the city and even get to see the crown jewels. The castle is at the top of the hill, while the Holyrood Palace is at the bottom of the hill.The Holyrood Palace is where the royal family stay whenever they come to visit Edinburgh, and can be toured as well. The street that connects the castle to the palace is a mile and therefore the street is called 'The Royal Mile'. On this street, there are a ton of restaurants and shops and is always full with people.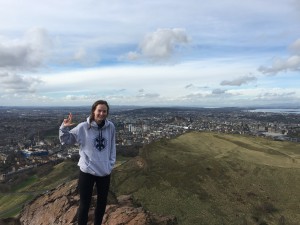 Arthurs Seat, is probably my favorite attraction. It can be seen from almost anywhere in the city and is a hiking park. It only takes about 30 minutes to get to the top but it is definitely a workout. From the top, you definitely have the best view of the city and can see for miles in each direction!
Another reason that I love this city is that the restaurants and cafes are mostly local, which makes the city unique. I've been here for about two and a half months, and while I do have my favorite places to go, there are so many places that I haven't had a chance to try yet.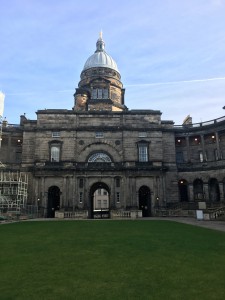 Being a student at the University of Edinburgh has been a great experience. The teachers and students have been so kind. Everyone takes three classes a semester, and while it it a lot of 'on your own' reading and learning, the teachers and students are always there if help is needed.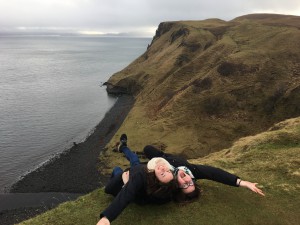 The Highlands of Scotland are one of my favorite things about Scotland and are just a few hours outside of the city of Edinburgh. The school offers day trips to the highlands for inexpensive prices and are so worth it. I've been on a few of the trips provided by the school to Loch Ness, Isle of Skye and Aberdeen. The highlands of Scotland are absolutely beautiful and are so nice to explore and get out of the city for awhile.
There is always something fun going on in Edinburgh. I was really nervous about making friends when I first came, but I was pleasantly surprised to find how nice everyone was and how easy it was to make friends. There is always a new restaurant to try or something fun to do. I miss Louisville of course, but I'm definitely going to miss Edinburgh when I come home. I love it here and I know you would too!