When looking up trips I'd like to take while in Europe, the idea of going to Greece wasn't realistic until a Times article highlighted Santorini Island as one of the Top 50 places a person must see in their lifetime. That was enough to convince me that I hadto see the island for myself and with already being in Europe it made sense both monetarily and logistically.
Our island adventure started with making a stop in Athens first. Withina couple of hours of hour plane landing we made it a point to see the Parthenon, but soon discovered we only had a short time to make that happen. We sprinted up the hilly cobblestone path and finally made it to the entrance. We made the 6pm cutoff time with just a couple minutes to spare and to our surprise found out entry was free for students. The view of Athens from the Parthenon was inspiring and seeing it up close bought elementary school history classes to life. Following our short excursion we explored the rest of Athens and head to bed relatively early for the 7am flight to Santorini Island the next morning.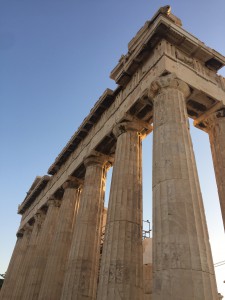 Once we touched down in Santorini I immediately knew this trip would be incredible, from the weather to the hospitable nature of our hostel owners the trip was off to a great start. With Santorini being a small island we thought it was best to explore via ATVs. Myself and two friends rented from a local company recommend by our hostel and shortly after test driving them we were on our way. We started at the southern tip of the island at a black sand beach. I had never seen black sand before but the look and texture of it was uniquely likable. After a quick nap on this beach we made our way to a lighthouse and incredible does not give justice to the views of the crystal clear water and cliffs running along the island.
As if the views from here couldn't be better we made it a point to watch the sunset from Oía, which is iconic for the glistening white homes and blue roofs. But although I enjoyed the sunset from here it was the journey there via ATV I found even more enjoyable. It was just an awesome feeling having the wind blow in your face as you drive past the massive expanse of the ocean going for miles.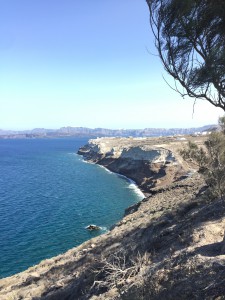 Our Santorini adventure ended poolside at our hostel which felt morelike a resort honestly with the amazing staff and great quality rooms. The trip was incredibly relaxing and worth every penny for the constant jaw dropping sights we were fortunate enough to experience!