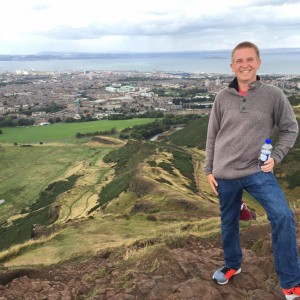 Welcome to Edinburgh. My time here is only beginning, but these first few weeks have opened my eyes to the love and beauty that Edinburgh and Scotland as a whole have to offer. I can safely say that after spending two weeks here in Edinburgh, I have settled in to my new home for the next four months.
My first week here in Edinburgh was filled with meeting new people from around the world and attending the "Freshers" events that the school puts on for all the first-year students. This doesn't sound like much, but the "Freshers Week" here in Edinburgh, is like our freshman week in Louisville only on steroids. There was so many amazing events to go to, by the end of the second day you could not even remember which ones you went to. The biggest joy out of going to these events was meeting people from all aspects of the world. I have met people from Cayman Islands, Ecuador, Brazil, Nigeria, Poland, Spain, Denmark, France, Netherlands, China, South Korea, Germany, UK, Italy, and many more amazing countries.
My second week entailed the beginning of classes and homework aka "reality". Schooling here in Edinburgh is quite different from the United States. Instead of taking 5-6 classes, 3 classes is all that the University will allow its students to take. Although this sounds great, some of the more advanced classes here in Edinburgh are quite challenging, but with perseverance and some effort I believe that I will be fine.
Without a doubt, Edinburgh is definitely as breathtaking as people say. Arriving in Edinburgh I could not resist taking as many pictures as I could of every monument, cobble stone street, and all the glorious architecture that envelops the city. Every street corner has a pub on it where you are welcomed with open arms to come inside, drink a pint, and talk football (soccer) with the locals. Traveling around Edinburgh and Scotland is quite manageable. This past weekend I took a trip up to the western highlands which I can say is the most spectacular place that I have ever been. Amazing mountains cover the landscape, all enclosing numerous lochs and open pastures. The hidden beauty of Edinburgh is its location. If you want to travel, its only a four hour train ride to London, one hour train ride to Glasgow, or a 30 minute bus ride to the airport where cheap airfare is available to travel anywhere.
All in all, moving abroad for the first time was a bit daunting, but has been so rewarding and so amazing. I still can't believe I actually did it, and have already fallen in love with this city and my new home. I am so excited to see where this semester takes me.