Trains, planes, automobiles, and lots of adventure are the words I would use to describe my first 2.5 days abroad in Costa Rica. Before I embark on my study abroad adventure tomorrow, I vacationed for a few days with some family. Let me tell you– I am already in a bit of culture shock that I am slowly getting used to.
The day I arrived at the San José airport, I realized that I must be quick to act. My luggage from Delta was delayed and I did not receive it until the next day. So tip number one for ya, folks: always bring a change of clothes (shoutout to my advisors for telling me to do this). After sorting on the luggage issue, we stepped outside into the warm humid air with taxi drivers shouting in our faces. Tip number two, be sure you have an official person helping you and never let someone handle your bag–people are quick to act.
We had a driver from the retreat we planned to stay at pick us up in a van and little did we know how harsh the roads would be. Just to give you a rough estimate… it took us 3.5 hours to drive a bumpy 140 kilometers or 87 miles. It was from that moment, I learned this trip is going to teach me patience and to rely on a whole lot of dramamine. I'm not kidding when I say these roads we went on felt like I was on a roller coaster at Kings Island. But, alas, we made it to our retreat near Monterrey, Costa Rica as the sun went down (which is about 5:30 here). We had had a delicious meal and were quickly in bed after some cool showers.
Thursday, we were greeted by the rising sun at 5:30 am and awoke to set out for breakfast of pancakes, bacon, and eggs (try eating any of that when you don't eat red meat and are allergic to eggs… thank goodness I brought protein bars). Our full day of canyoneering, waterfall rapelling, horseback riding, swimming, and visiting an indigenous tribe was amazing. The rainforest is incredible and I even left the middle piece of my right big toenail in the waters… thank you Delta for delaying the arrival my close-toed shoes. Regardless, the day filled with adventure and Costa Rican food was amazing.
Friday, we set out to hike to the base of the Arenal Volcano. Our 1.5 hour hike was breathtaking, rainy, and the most amazing experience yet. We visited a local "soda" to eat local cuisine. My avocado salad, fish, and vegetables were filling and delicious. Although, the "black bean" soup of my relative was made simply of eggs and black broth which looked rather alarming.
I could write of my adventures thus far forever but it's only been two full days of interpreting Spanish for my mom and frying my brain at attempting to learn more words and speak the language myself. The "ticos" here are extremely friendly and I know once I fully adapt I will never want to come back. The tranquility, adventure, and peacefulness has made everything feel and look like a utopia. And, friends, I have not seen one mosquito yet… but I have seen monkeys! Embrace the spontaneity and be okay with being uncomfortable. If you act like you know what you're doing in a place you've never been, you'll feel at ease. Cheers to 35 more days of la pura vida (the pure life) y jugo fresco (fresh juice).
Escribiría pronto (I will write soon).
-Carolina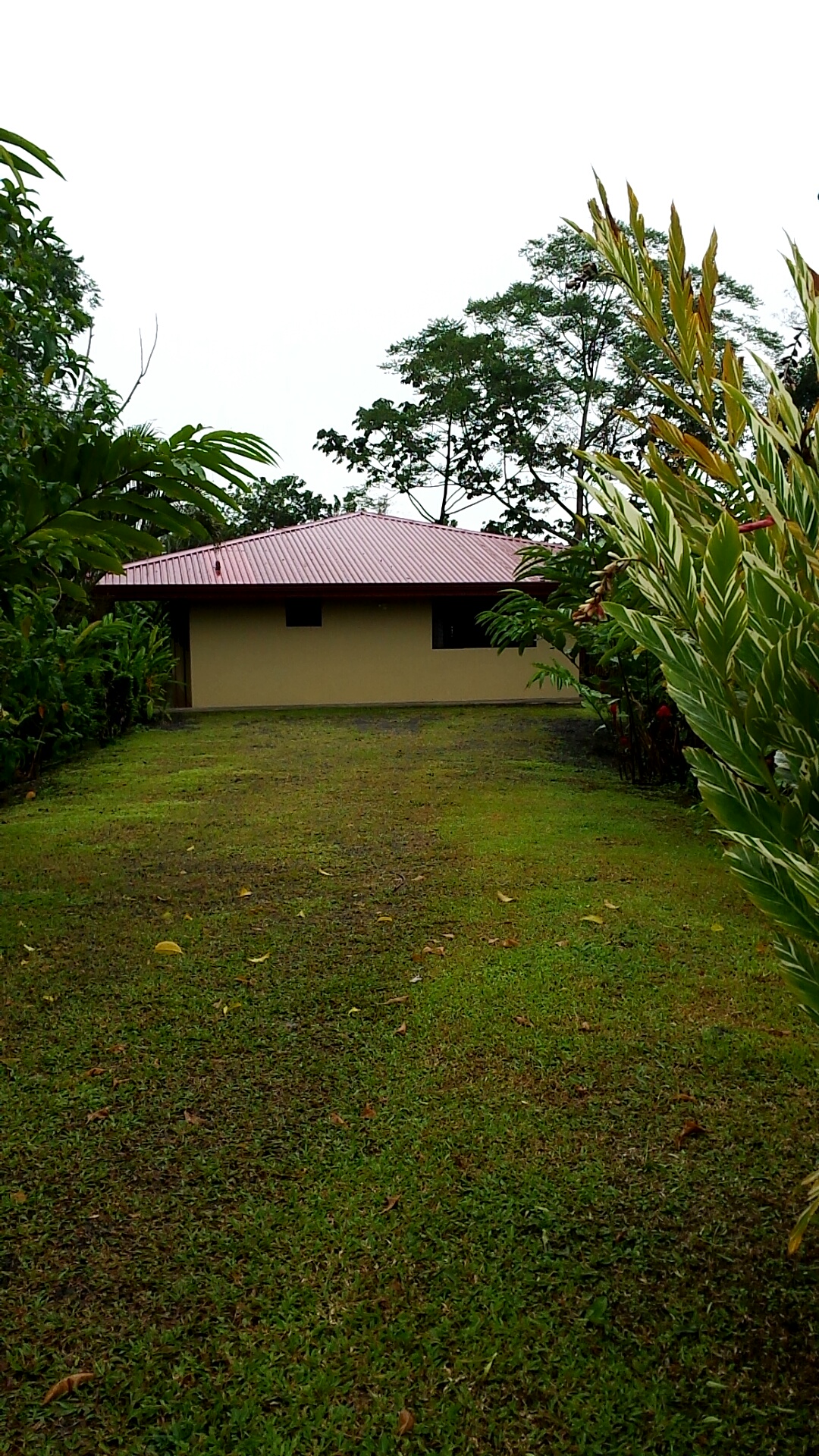 Our hacienda (little house)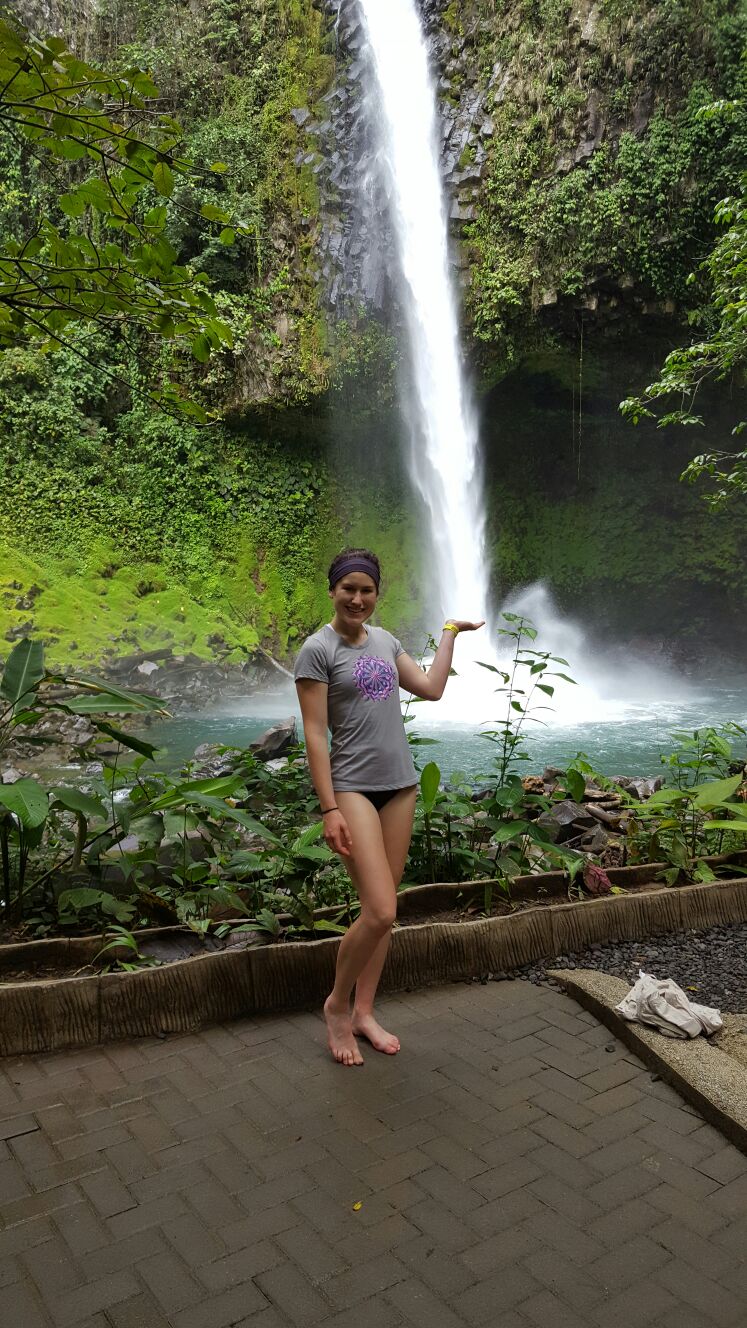 La Fortuna waterfall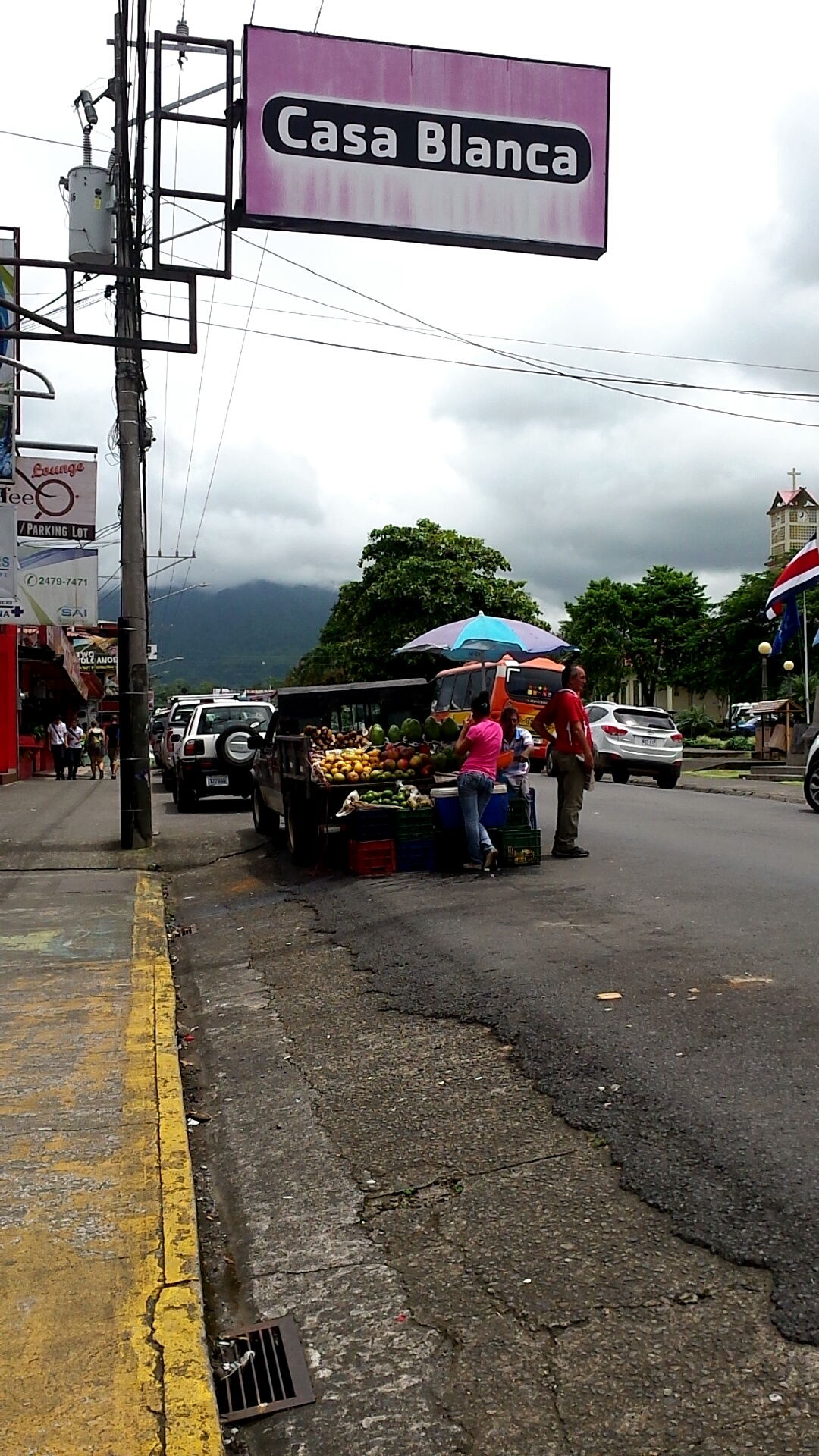 The town of la fortuna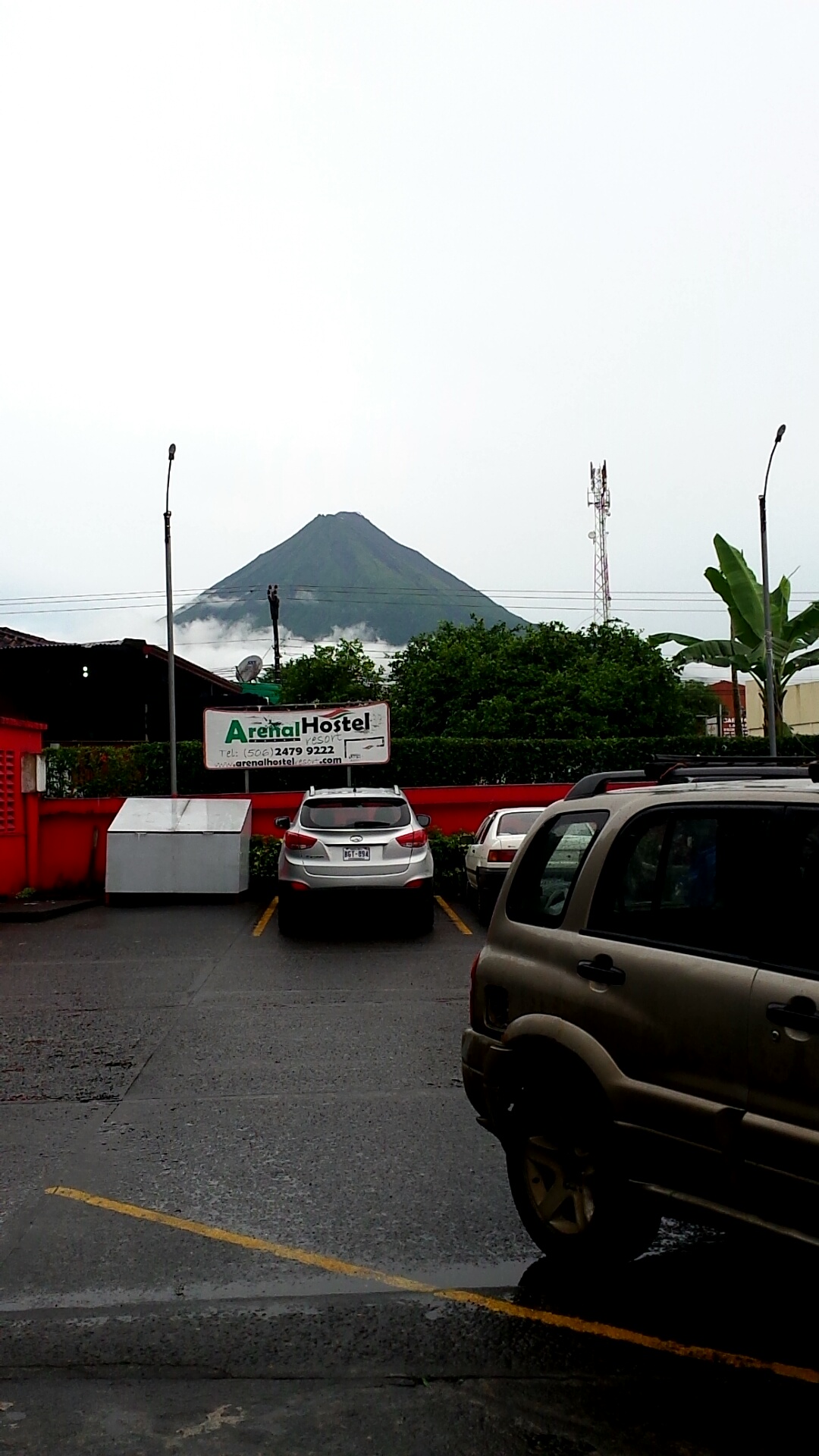 Arenal Volcano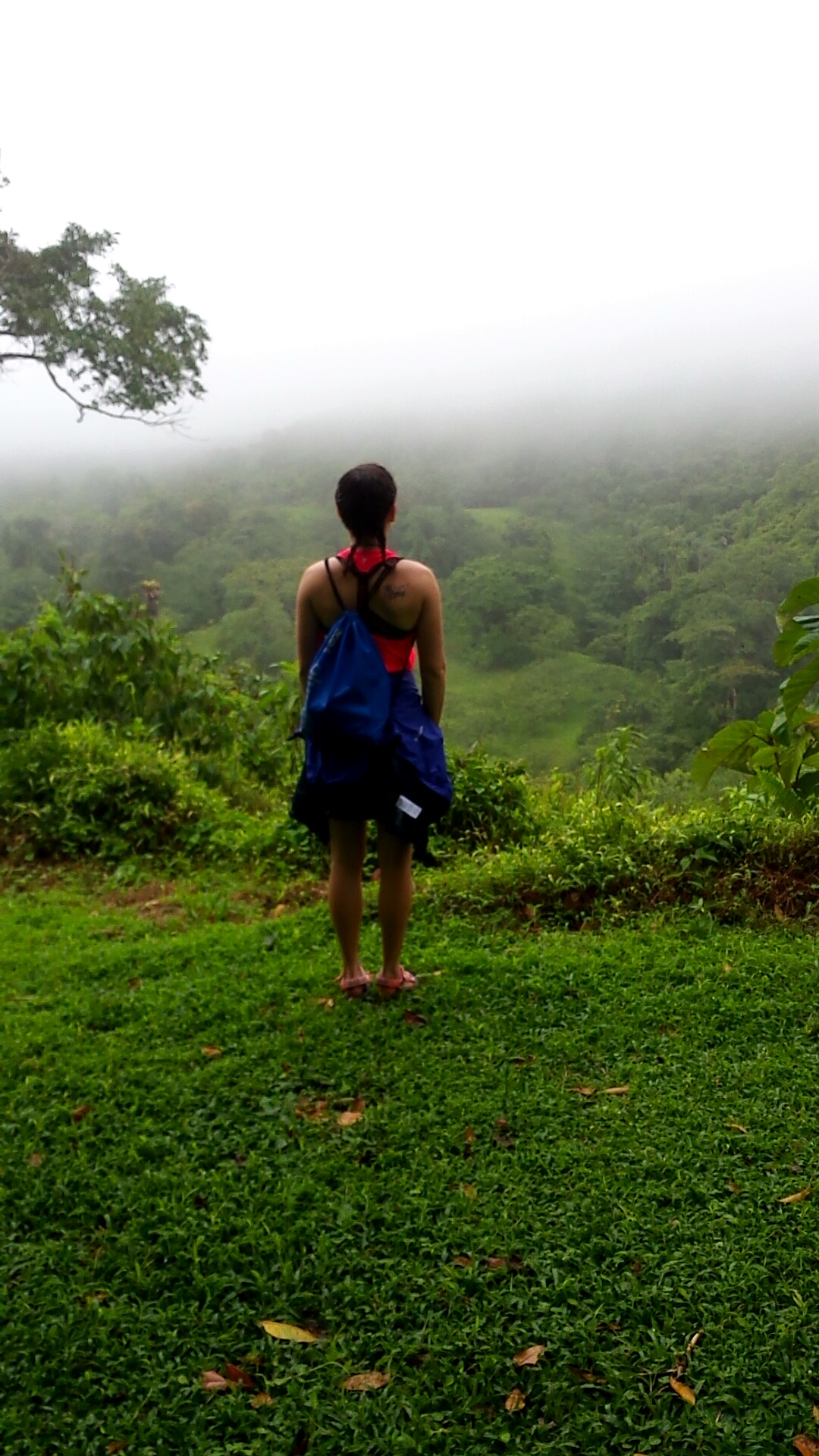 Hiking to the Arenal Volcano