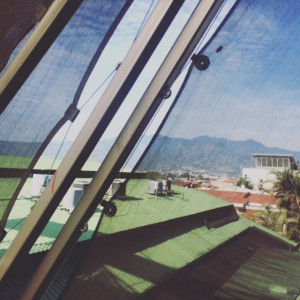 One of the things they tell you not to do is get comfortable with the other international students because that is your first thing to cling to. Other people who know English. Other people from the united states or your own state. This is VERY GOOD advice. I have only been abroad for 4 days and I find everyone I am hanging out with are Americans. I am in Costa Rica to study Spanish and although having those friends to hangout with and explore areas like the supermercado (super market) and centro (downtown) is awesome, having ticos (natives) to talk with and help show you where to go is even better. I would recommend you listen to the advice that the faculty give you about the trend to be with other Americans. Luckily, I have a service program with all natives and that will stretch me and challenge me to use Spanish more, I would advise that you in your first week get a tico friend or national that you build a relationship with.
Don't be stuck flocking together with other birds like you in another country. We study abroad not only for the cool sites and getting away from American culture, but for the differences. Embrace the differences. For example here we are on tico time. Meaning everything takes up to an extra hour. Rushing is not a thing in Costa Rica. For someone who rushes and is busy often embracing tico time has been sort of awesome! I would suggest you embrace the culture you live in. Don't try to fight it, but embrace it.
Not only do you flock with those similar to you, but you flock with those who you are comfortable around. Even if you begin to build relationships with locals, I would challenge you to go another step beyond that. Continue to push yourself out of the comfort bubble. For example, I am not a dancer, nor have I ever taken a dance class, however I am taking a dance class with ticos and international students on Thursdays while in costa rica to learn the salsa and other ballroom dances. This is something completely out of my comfort zone. I would challenge others to do the same whether it be yoga, cooking, dance classes, riding a bus, etc. Continue to push yourself.
Lastly, I would share with those traveling abroad and living with host families to get to know their family. My tico mama is dona Rosa. She is 76 and she has one sibling and many children and grandchildren. Your families will not only help you to learn a language and culture but they can become helpful for directions, and many other things. Have dinner or breakfast with your family. Share a meal daily and maybe watch a show together once a week. This will help you not to flock to Netflix, books, facetime, etc.
Together lets flock in all kinds of directions.