Shanghai is a wonderful city. There is so much to do here; so much good people watching. At times i lose myself in wonder, as i try to take everything in. My favorite thing to do is get a general idea about a place to go, find out which metro station leads there, and just leave for the day, a few hundred RMB in my pockets. Yes, sometimes i make plans, like when i went to Tea City (giant tea mall) or the four story medicinal herb pharmacy, but I prefer to allow my heart to lead me whereever it wants. I find all kinds of neat things this way.
Today i've done it again. I'm headed to south shaanxi road where i heard there was good shopping. Im forever looking for dresses and shoes. Its very dfficult to find shoes here because the Chinese people simply have a smaller frame than americans. When i tell them i need a 41, or a US 9 i usually get laughed at or taken to the mens department.
I was able to find a pair of 'Chucks' (fake version, found at the faux market) for about $10.00 but as far as cute sandals or dress shoes go, I'm usually out of luck.
Last week on one of my 'adventures' i ended up in the heart of the financial district on a thrill ride, ill call it. Literally, there was a small amusement park right in the middle of the city.  It swung back and forth, seemingly about to hit the trees, and then started to whirl around. All i remember was seeing the huge George Clooney poster on the side of a building and feeling comforted by that.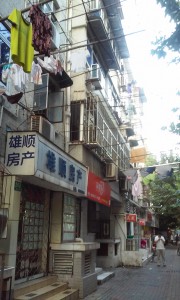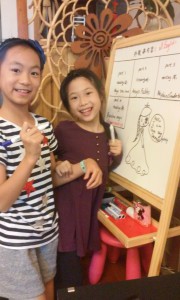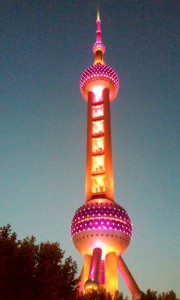 Afterwards, I found street dancers, musicians, people trying to sell me more fake goods, and more.  I don't know that I would necessarily want to live in Shanghai, due to the rediculous number of people, the humidity, and the questionable food.  However, I have gained a lot of gratitude for my relatively priveledged Western upbringing.
A 'touristy' bar is called 'Perry's.  I met 3 Chinese friends (Tina, Alina, Wu Jian) but Perry's has people from all over the world.  On any night you will find hundreds of people, Columbian, Italian, Spanish, African, French, …okay you get the idea.  One person I met invited me to and American Chamber of Commerce meeting, which I will attend next week.
My favorite places to eat are 'Guy with Cart who Comes out After 11pm'.  He sets up a dozen different types of skewers, a grill, and viola, hot meat on a stick.   I also like 'Super Chicken' and 'Coco (Taiwanese bubble tea.)
More later..