Guten morgen everyone! Each weekend while I am abroad I am allowed to travel during that time and they give us a three day weekend so we can have enough time to travel! So, for my first weekend that I could travel I chose to travel to Munich, Germany. Here is a little recap of my trip!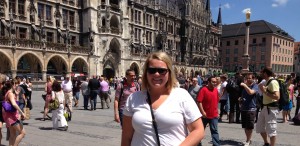 After arriving to Munich by train, we left the train station and headed to our hotel for the weekend – a Holiday Inn – which seemed like the Ritz Carlton to us. The beds were comfortable and soft, there was a normal sized shower with a tub, the towels were normal sized and soft and there was air conditioning. By our reactions you would have thought we were staying in the most luxurious place in the whole world. After we dropped off our things we headed to Dachau, which is a Concentration Camp Memorial Site. As we found our way from our hotel to Dachau and started walking towards the main gates there was just a feeling that everyone could feel. It's a feeling that is hard to describe unless you actually experience it but the best way I can describe it is that you could feel the atmosphere shift from one of excitement to darkness and sadness. As we walked towards the gate to walk inside I had to take a second to take a breath because it hit me that I was about to walk into a place that once held prisoners hostage, killed many and was a place of evil. As you opened the gate, it read in German "work will set you free", or some version of that phrase.
I could talk about my experience at Dachau for hours about what I saw, how I was feeling and what it was like. It definitely was a moving experience and it put into a real perspective of what it was actually like being there. It is one thing to read about it in a book but to walk around and learn about all of the details was definitely an experience I will never forget. Overall, the visit to Dachau was eye opening and powerful and is one I will never forget.
After we left Dachau it was time to lift our spirits a little bit and grab some food and head back to our hotel for the night because we were exhausted and we knew we were going to have a full day on Saturday. We found a little Chinese take-out restaurant that was by the main train station in Munich. Eating dinner was a little taste of home because it was really good and I love having Chinese take-out food. As we sat and ate our dinner and talked we remembered that it was the anniversary of D-day on June 6th, which was Friday, and we were sitting in Munich, Germany. Never did I think that I would be able to say that. My house mom had talked to me about D-day and what it was like for her and her family during that time and it was really interesting to get her point of view about it.
Saturday morning was the first time I have slept past 7:00 a.m. since being in Europe. There have been no lazy mornings whatsoever on this trip. So, needless to say I slept until 10 a.m. on Saturday and it was glorious! I finally got more than 6 or 7 hours of sleep and the beds were super comfortable too. As we headed out to the city centre of Munich – also known as Marienplatz – we decided that all of us girls needed a day of shopping! For those of you who know me, know that this is right up my alley and meant that I was going to be happy the rest of the day if I could shop! Some of you may know that I have a "small" obsession with shoes and that I love buying and wearing shoes more than anything…okay maybe it is a big obsession! Anyways, I had told some of my friends that all I wanted from Germany, if nothing else, was a red pair of Birkenstocks because Birkenstocks are made in Germany and I have a pair that I bought in America but how cool would it be to buy some in Germany? So throughout our shopping and sightseeing, we always had our eyes out for Birkenstocks. As we walked through city centre we saw the world famous Glockenspiel and it was absolutely beautiful! The amount of detail work, architectural design and sheer beauty of this building took my breath away.
We continued to walk around Marienplatz and we went into a couple of shoe stores and no luck on finding red Birkenstocks. They had every other color and design but red. We went into some souvenir shops, clothing stores, sporting stores and bought a few things and then a couple of more shoe stores and no luck. We went into a shoe store that didn't look promising and I asked the woman and she said they didn't have any Birkenstocks at that specific location but if I walked up a couple of blocks I would be able to check in the larger version of this shoe store which is called Tretter's. I started telling my friends that we might just be out of luck and I won't be able to find them here but that was okay. So, we decided that we would check that one last store and then head to dinner because it was 5 o'clock at this point. As I walked into this larger store I asked a saleswoman if she had any Birkenstocks, which they did, but as I walked to the display I didn't see any red ones. I had told the woman about my adventure to find a pair of red flip-flop style Birkenstocks and she didn't think they sold any that were just plain red. I did see a pair that had a little red on them so I decided to try those on. She was gone for a couple of minutes and then came back out with two boxes. One of the boxes had the design that I had asked to try on from the display and then she got a huge grin on her face and opened the next box which had a pair of red flip-flop Birkenstocks in my exact size and they were the only pair in their stock room. I mean is that fate or what?! I was destined to have these shoes! I could not stop smiling as I tried them on and my friends could hear that I was excited and they stopped their looking to come find me. Needless to say I was in love with these shoes AND to top it all off, they were half priced compared to in America! What a deal, right?!
After I made my purchase I looked at my friends and thanked them for going along with my crazy desire to find these shoes and that I would be happy with whatever we did the rest of the weekend because I had found these shoes! They were pretty happy that I had gotten them because they knew that it made my day and weekend. We decided for dinner we had to go to the original Hofbräuhaus that is in Munich because it is a must and is something cool that you can tell people about. As we found our way there you could tell it was very touristy in that area with lots of souvenir shops, gelato shops and even a Hard Rock Café. As we sat ourselves in the world's most famous "Biergarten" it was so cool to sit and watch the people around you. We decided to experience it to the fullest and we all ordered a liter of their original beer. It was pretty good beer and now I can say I drank a liter of German beer in the Hofbräuhaus! I also ate a pretzel that was larger than my face and some other sides. It was definitely a lot of fun to get to eat and drink there.
After the Hofbräuhaus it was time to head back to the hotel to get some much needed rest and relax our feet and that gave me some time to try on my new shoes again! Sunday morning we had to wake up a little early because we were going to tour BMW Welt before we got on our 1:20 p.m. train back to Bregenz. So, we got up early and made it to BMW Welt (World) by 9:30. One cool fact about being there was that it was right next to the Olympic Park in Munich, so we got to see and look around the Olympic Park. As we approached the BMW Welt it was so futuristic looking and the architecture was simply flawless.
As we walked in I was overwhelmed with all of the cars that were on display and how everything was so clean and sharp looking. As we walked through BMW Welt I got to sit in some of the different cars, SUVs and convertibles which was really cool. I also learned about the new BMW model that they will release soon called the i8 BMW. Their technology is absolutely incredible and fascinating and was REALLY cool to learn about. They also had simulations where you could sit and "drive" a BMW through a course and let me say that I don't think I should ever drive 125 mph on a real road. As I was almost approaching the exit to the building I noticed this beautiful looking car that was the very last exhibit. It so happened that it was in my very favorite color and I still believe that this BMW was built specifically for me! I think this would make an excellent college graduation gift!
After touring the BMW Welt we went back to city center and ate some delicious lunch inside of the Glockenspiel at a restaurant called the Ratskellar. I had chicken bratwurst and French fries and it was SO delicious. I also got some crushed ice with my cola-light and if anyone has traveled to Europe, you can relate to my excitement about the crushed ice and ice in general. But, to top it all off we got to sit inside the Glockenspiel and listen to it ring which happens every day at 11 a.m., 12 p.m. and 5 p.m. It was really beautiful to just sit there in the sun and relax and take it all in.
As we headed back to the train station to catch our train back to Bregenz, the s-bahn decided that it was going to be a little slow that day and it caused us to miss our train that departed at 1:20 and the train left without us. So, we had to find out when the next train was leaving and luckily there was another one that was leaving at 4:33 and we were going to make sure that we made that one because it was the last train of the day to stop in Bregenz. So, we got comfortable at a table and waited around a little bit and watched people walk by.
Finally, it was time to board our train and head back towards Bregenz. But, of course before I left I went to the bathroom. (Hint #3 to Europe: It costs money to go to the bathroom sometimes.) I had to pay one euro to go to the bathroom and if weren't for the fact that I had to go really bad and was going to be on a train for two and a half hours I would have held it. But, anyways I made it back onto the train safely and we were on our way back. After finally making it back to Bregenz and walking up the "hill" with all of my new purchases and backpack with clothes in it, I was looking forward to just taking a shower and writing my blog and relaxing a little bit. But, much to my surprise my house mom's daughter, son-in-law and two grandchildren were in for the night because Monday was a holiday here. As much as I wanted to just chill and relax, it was also really cool to be able to sit down with them and talk and get to know them. It is fascinating because all of them could speak both German and English fluently, even the children who were about 5 and 2. After sitting and talking for a while, I decided that it was time to head to bed and get some sleep. Well, I think that is all for now and I will check in again later!