Graduate Career Ready
Master of Science in
Accounting & Analytics (MSAA)
Accounting essentials with data analysis expertise
Shorten the time
to become a CPA
The UofL College of Business Master of Science in Accounting & Analytics (MSAA) offers the essential tools, resources, and support to develop and enhance your accounting skillset. The MSAA analytics pairing brings your graduate accounting degree up to date, supporting the data-dependent demands of the modern accounting career.
Shorten the time to CPA. Learn the business, financial, analytical, and accounting needs of today's technologically driven business world. Start today!
Globally ranked #27 by Best Masters 2022.
Program Highlights
STEM-Designated Degree
GMAT optional
STEM designated
Managerial Analytics Certificate adds data analytics to your resume
Competitive 11-month paid internships maximize your hands-on learning bringing your classroom knowledge to life
Unlimited access to Becker CPA or CMA Review software with guided study requirements prepares you to sit for the CPA or CMA upon graduation
Electives integrated with our MBA programs broaden your strategic business scope
10-day international study trip or an online global-learning course*
Exclusive opportunities to network with professionals and leaders in public accounting and other industries
Professional career coaching with our Lifetime Career Support Promise
*Alternate non-travel course section must be taken if an optional 10-day international study trip is not undertaken. Program charge includes the cost of the trip minus airfare, most dinners, and personal incidentals. No refunds or discounts are applied if the student does not travel.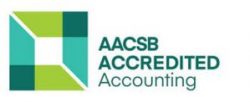 Our School of Accountancy program holds the prestigious distinction of being separately AACSB accredited — an accolade achieved by only 2% of the world's accounting programs.
Ready to Get Started?
Apply Today