Graduate CPA Ready
Masters of Accountancy (MAC)
Master your accounting career with data analytics expertise
Shorten the time
to become a CPA
The UofL Master of Accountancy (MAC) program offers the essential tools, resources, and the in-person support that you need to be CPA-ready upon completion of the program. Unlike many other MAC programs, the curriculum includes Becker CPA exam® preparation (a $2600 value) along with data analytics and accounting. You can even sit for the exam while still in the program.
Shorten the time to CPA. Learn the business, financial, and accounting needs of today's technologically driven business world. Start today!
For a Limited Time
No GMAT Required! Automatic Acceptance for qualifying GPAs
Now's your chance to get into the MAC program without added stress. No GMAT required and UofL accounting majors with GPAs of 3.0+ are automatically accepted into the program.
Program Highlights
Accounting + Analytical Skills
No GMAT required
Learn high-level accounting primed for today's business world with courses and topics in data analytics
13-month program (3 Semesters)
34 credit hours
Accounting internships are available
Optional 10-day international study trip*
Becker CPA exam® preparation is included (a $2,600 value). You can even sit for the CPA exam while still in the program
Foster collaboration and develop leadership skills in this cohort-based approach
Acquire outstanding technical knowledge in all major aspects of accountancy with a focus on analytical and professional sharp skills
World-class faculty includes teachers with extensive professional experience in accounting and analytics
Professional career coaching with our Lifetime Career Support Promise
*Alternate non-travel course section must be taken if an optional 10-day international study trip is not undertaken. MBA program charge includes the cost of the trip minus airfare, most dinners, and personal incidentals. No refunds or discounts are applied if the student selects not to travel.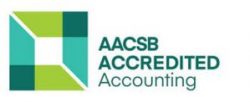 Our School of Accountancy program holds the prestigious distinction of being separately AACSB accredited — an accolade achieved by only 2% of the accounting programs in the world.
Ready to Get Started?
Apply Today