Small Bites Of Business Insights
A new podcast brought to you by the Yum! Center for Global Franchise Excellence
Learn more about the Center
Get more information about the Small Bites of Business Insights podcast!
Reach out to us. We'd love to hear what you think. Get more information about the podcast, upcoming episodes, and learning opportunities at the Yum! Center For Global Franchise Excellence.
Kathy Gosser, PhD
Podcast Host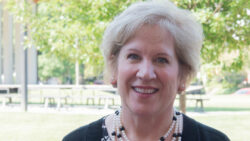 Dr. Gosser originally joined the College of Business in 2019. Before joining UofL, Dr. Gosser spent 35 years at YUM! Brands. Her last role with the company was as Director of Learning & Organizational Development and the Chair of the KFC Foundation. She earned her PhD in Educational Leadership and Organizational Development from the University of Louisville, her MBA from UofL, and her BA in Journalism from Indiana University.