Learn more about the Online MSBA program
Tell the taleof business data
Data is driving the future, and you get to tell the story. As more industries around the world continue to depend on data to inform their business strategy, the need for professionals who can read and interpret data grows. Analyzing complex micro- and macro-data and telling the story allows strategic leaders to make informed decisions for their business.
The University of Louisville is expanding access to the STEM-certified MS in Business Analytics through online options. Our program faculty includes industry experts with input from C-suite executives, and classes can be accessed anytime, anywhere, in a flexible and asynchronous format. The specialized curriculum provides the tools and methods you need to read data, recognize patterns, predict outcomes, and tell the story of numbers. Courses include Python R, Predictive Modeling, Data Visualization, Machine Learning, Deep Learning, and more.
Goldi Tewari
MSBA 2022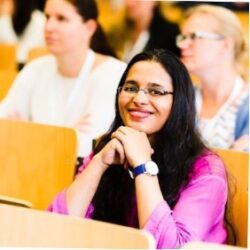 "I received exceptional, thoughtfully curated course material and mentoring from one of the best professionals in the data world… the MSBA program helped me grow as a whole person and professional, beyond core academics." 
– Goldi Tewari, MSBA '22
ONLINE MSBA
PROGRAM HIGHLIGHTS
GMAT optional: strong scores will be considered for additional scholarship opportunities.
Fall '23 Start available (projected)
Summer prework at no additional cost to help you prepare for the program (asynchronous)
Relevant electives like Artificial Intelligence, Blockchain and PySpark taught by practicing experts
Opportunity to engage 1:1 with world-class faculty
Access to business leaders, guest speakers, and alumni network
Networking opportunities with other business professionals across the globe
Professional career management services and coaching with our Lifetime Career Support
Plan ahead for the next steps in your career!
Request more information to connect with our enrollment counselors so they can notify you as soon as the application is open, and keep you informed of any steps you can take to prepare in the meantime.
REQUEST MORE INFORMATION