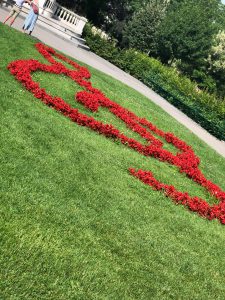 This past weekend I traveled to Vienna, Austria. It is my favorite European city I have seen so far!
The city is on the opposite end of Austria from where I am studying in Bregenz. The train ride there was broken up by a quick stop in Innsbruck, Austria, but neither ride to Vienna felt too long.
I stayed in an Airbnb, right next to a metro stop. The metro was very easy to navigate with Google Maps and made exploring as much of the city as we could possible!
The first morning, I ate at Café Central, where many intellectuals and authors used to gather. I had Viennese square noodles for lunch and tried some authentic apple strudel. I definitely recommend the restaurant, although it was a little pricy.
I then saw Freud's home and a statue that was just unveiled of him at a local university.
Following this, I explored as much of the city and its center as I could! I stumbled upon a beautiful church and then on a small park. While wandering, I also discovered the city's museum center that had multiple beautiful gardens surrounding it.
That night, I ate at Mozart's Restaurant. There were many local options there for a cheap price!
The next day, I saw Schönbrunn Palace, where Franz Joseph once lived. The palace, its gardens, and the land surrounding it was beautiful. If I return to Vienna, I would likely want to go back!
I later checked out a local market and then happened to find a large amusement park with a ferris wheel that featured a city view.
There was a lot more I could have done in Vienna, such as the Belvedere or the Albertina. I recommend spending time there though to anyone who is able to do so!
Thanks for reading! -Peggy S.