Transfer and Transform
Pathway to Bachelor's
in Business Administration (BBA)
Guaranteed admission and 52 credits transfer.
Increase your job prospects and improve your life.
UofL Ultra Program Portal
Guaranteed
Credit Transfer
JCTC to UofL*
Continue your educational journey while receiving credit for the hard work you've already done. In coordination with Jefferson Community & Technical College (JCTC), students who have completed their Associates in Applied Science (AAS) in Business Administration Systems can carry that momentum into a Bachelor of Business Administration (BBA) degree at the College of Business.
According to Payscale.com, people who hold a bachelor's degree, earn an average of 20% more than those with an associate's degree alone.
Transferring from JCTC to UofL cannot be any easier. With our ULtra program, any student that has earned an AAS is already a third of the way to a BBA. As a JCTC student, you can feel confident knowing that all the JCTC courses indicated in the pathway are guaranteed to be accepted at UofL and that the courses will count toward completing a BBA from the College of Business.**
Plus, the BBA is available online so you can take classes wherever you are.
Beyond Salary
Create a career
Beyond salary, other benefits of continuing your degree to earn a Bachelor's include:
Increased job opportunities: College graduates see 57% more job opportunities than non-graduates
Greater exposure to networking: Increase your professional network and soft skills. Enrollment includes membership in UofLBizConnect.org, the network of College of Business students, alumni, and partnering businesses ready to support your success
Increased marketability: The four fastest-growing occupations: healthcare, STEM, education, and government services all require postsecondary degrees and two-thirds of all jobs will require postsecondary education by 2020
Greater access to job openings posted: A Bachelor's degree is required for more than 80% of jobs posted online 
Economic stability: Bachelor's degree holders have a significantly lower rate of unemployment. According to Pew Research Center, only 6% of bachelor's degree holders live below the poverty line but that number jumps to  22% for those without a college degree
Personal growth and improved self-esteem: Earning a degree boosts confidence which translates into better job performance and advancement. You'll gain skills such as time management, working on a team, presentation skills, and writing
Higher job satisfaction: More opportunities, on-the-job perks, and potential for advancement lead to significantly higher job satisfaction
The Lifetime Career Support Promise: Students and alumni at the UofL College of Business have access to lifetime career support, at no cost, which includes resume review, interview and career coaching, and access to our job boards
Georgetown University's Center on Education and the Workforce employment study
Bachelors in Business Adminstration (BBA)
Degree Highlights
Earn your degree faster with guaranteed admission and guaranteed transfer of 52 JCTC AAS credits.*
Increase your salary potential and widen your job opportunities by applying your associate's degree credit hours (AAS in BAS) toward earning a Bachelor's in Business Administration (BBA)
Gain expertise and universally-applicable knowledge in essential business administration and management areas, including economics, marketing, accounting, finance, statistics, operations, and computer systems from an AACSB accredited college of business
Study data analytics and other tools currently used by business leaders and accounting professionals
Use elective hours to choose a minor that aligns with your career goals, either from within the business school (i.e., marketing or economics) or across UofL's offerings (including but not limited to areas like communication, criminal justice, organizational leadership, or sports administration)
Interact with other current and future business professionals—growing your network and opportunities
Engage with world-class faculty, many with extensive backgrounds in business and research
Lifetime career support
*Courses transfer upon completion of the JCTC AAS in BAS.
**The last 30 of 36 hours with 12 hours in the major must be completed at UofL

More information: Visit the JCTC-BBA Information Portal
Download the JCTC-BBA Transfer Guide (.pdf)
ULtra
Your Bridge Between
JCTC and UofL
UofL's ULtra program connects your AAS degree to UofL by offering a range of services and support. Start as a Pathfinder, graduate as a Cardinal!
Guaranteed admission to UofL:

After earning your AAS degree you'll have 52 transferable credits toward your business (BBA) bachelor's degree*
A JCTC GPA of 2.5 is required

Course advising at every JCTC campus by a UofL advisor to keep you on track
An opportunity for free tuition by participating in the Metropolitan College Program. Work at UPS and get tuition benefits, bonuses, books, a weekly paycheck, and more
A report every semester on your progress toward a UofL degree
Exclusive additional benefits with a UofL Cardinal Card student ID ($40 per semester)

Ride the entire TARC bus system
Unlimited access to UofL's Student Recreation Center
Participation in fitness classes, intramural and club sports at no additional cost
Ability to purchase UofL student football and basketball tickets, plus free entry to all other athletic events
Access to UofL's library
AAS Courses
Transfer to BBA
| | | | |
| --- | --- | --- | --- |
| AAS Course Category | KCTCS Course Title | UofL/COB | Credit Hrs.  |
| GE-Writing I | ENG 101 | CC | 3 |
| GE-Oral Communications | COMM 181 or COMM 252 | CC | 3 |
| GE-Economics | ECO 201 | CC/COB Core | 3 |
| GE-Heritage/Humanities | One course (HIS 101, 102, 108, or 109) | CC | 3 |
| GE-Natural Science | Science with a lab | CC | 4 |
| GE-Quantitative Reasoning | MAT 150 | CC | 3 |
| TC-Writing II | ENG 102 | CC | 3 |
| TC-Intro to Bus Law | BAS 267 | BB (CLAW 301) | 3 |
| TC-Financial Accounting | ACC 201 | COB Core | 3 |
| TC-Managerial Accounting | ACC 202 | COB Core | 3 |
| TC-Intro to Business | BAS 160 | MGMT Elec. | 3 |
| TC-Computer Digital Lit | CIT 105 | Gen Elec | 3 |
| TC-Productivity Software | CIT 130 | Gen Elec | 3 |
| MGMT or TC | ECON 202 | COB Core | 3 |
| MGMT-2nd QR | STA 220 | COB Core | 3 |
| MGMT-Applied Mgmt Skills | BAS 284 | Gen Elec | 3 |
| MGMT Elective | TBD | Gen Elec | 3 |
| MGMT Elective | BAS 293 | BB (FIN 302) | 3 |
| MGMT Elective | BAS 289 | BB (MGMT 320) | 3 |
| Total Credits | | | 58 |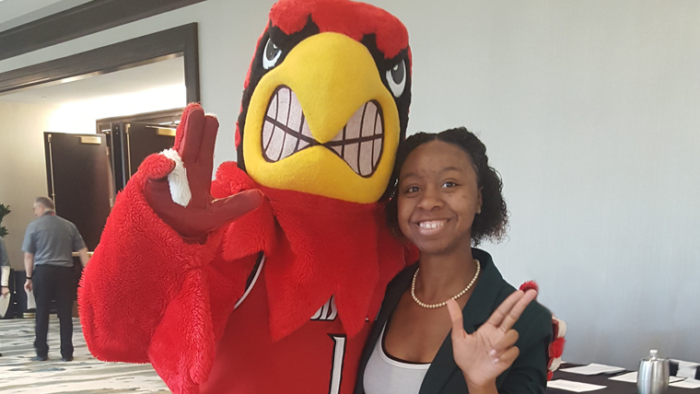 Whatever your passion is, UofL has a space for you. So, I'm excited about my future because I am a product of a wonderful school!
Tiffany Fitzpatrick
JCTC Class of 2018 & UofL Class of 2020