WORKSHOP: October 16, 2019
Managing Change in the Age of Artificial Intelligence
AI is already dramatically altering the landscape for business and marketplace strategy. Gain the insights you need to understand the speed, scope, and scale which AI impacts your bottom line.
REGISTER TO ATTEND
Learn more about this AI Workshop
Key Strategies
For Informed Leaders
Most executives underestimate the widespread impact that AI has on their business — how algorithms learn, make decisions, and track behavior with tremendous sophistication, often in real-time. AI is not future tech; it's a powerful tool wielded by successful companies to transform their marketplace at an exponential rate. Any business, regardless of size or specialization, can integrate AI and benefit from its multi-faceted applications.
How can you compete?  Are you prepared? Understanding the implications of AI for your business is critical — from its role in automation and fraud detection to predictive analyses to improving customer experiences. In this workshop, you will assess your readiness for AI adoption and learn how to integrate AI into your current business strategies. Evaluate the obstacles, risks, and rewards AI integration brings.
Managing Change in the Age of Artificial Intelligence
Leading your organization with a future-forward digital strategy 
October 16, 2019
8:30 am-Noon
(8:00 am networking and breakfast)
ShelbyHurst Campus
Founders Union Building
Room 218
Louisville, KY 40223
Cost: $450
(Cost includes 1 full paid registration and a complimentary ticket for a guest.)
REGISTER TO ATTEND
Topics to be covered
A brief history of AI & Digital Transformation

Defining AI Mega-trends: Machine, Platform, Crowd

Impact of New tech on job growth

AI and education 

…and more!
You'll walk away ready
informed and competitive
Our workshop covers the strategic implications and provides you with the knowledge to prepare your organization to remain competitive in this new landscape. Hear case studies of other organizations who successfully planned for the uncertainty of AI and how they embraced it, used it for competitive growth and safeguarded against its threats.
Enhance your understanding of artificial intelligence
Identify AI opportunities that create strategic advantages for your company
Learn ways to lead your organization through the digital transformation with AI
Identify general trends that will help you plan for and leverage technology in your future
Complete an AI readiness assessment
REGISTER TO ATTEND
Who Should Attend?
This workshop is essential for business leaders, managers, and executives looking to gain and maintain their competitive advantage as they successfully integrate AI and technological advances into their business strategy. Be prepared and stay relevant with workshop insights presented to assist decision makers with embracing AI adoption at scale.
WORKSHOP
KEY TAKEAWAYS
Walk away with an AI knowledge base which will allow you to confidently build strategies best suited for integrating data analysis, programming, and automation into your current business model. Turn this industry disruptor into a true business opportunity.
Jeff Guan, PhD
About the Presenter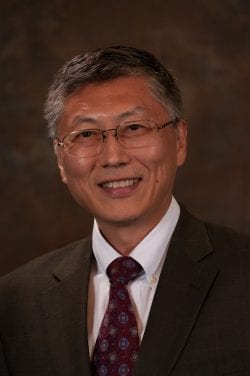 Jeff Guan, PhD
Associate Professor of Computer Information Systems, University of Louisville College of Business
Dr. Guan teaches database in the CIS undergraduate program and database and data mining in the MBA program. Guan's main research interests and publications are in the areas of business analytics and data mining. He is the program director for the Master of Science in Business Analytics program.
REGISTER TO ATTEND