e + i
e+i Entrepreneurs Meet Innovators events give entrepreneurs early in their careers, and students interested in entrepreneurship, an opportunity to hear about the entrepreneurial journeys of very successful innovators in a casual "fireside chat" setting. These sessions will be taped and aired on KET.
---
e+i: Entrepreneurs Meet Innovators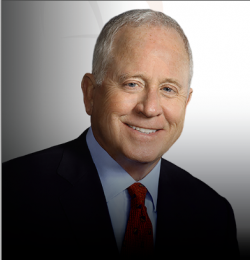 Sponsored by:
Axiom Financial Strategies Group of Wells Fargo Advisors
Join us for a discussion with
Bruce Lunsford
Founder, Chairman, CEO
Tueday, October 1, 2019 | 4:00pm-5:30pm
UofL College of Business, Room 336
Join us for a discussion with Bruce Lunsford, a 2012 Kentucky Entrepreneur Hall of Fame inductee. Bruce has made a significant impact on the Louisville business community. In 1985 he co-founded Vencor (now Kindred Healthcare), a leading U.S. health care company that became a Fortune 500 company. During his tenure, Vencor grew to employ over 65,000 people in 45 states, providing care for 50,000 patients. In 1996 he founded Atria Communities, Inc., the third largest assisted living company in the U.S. He is the Chairman of Arcadia Communities, a real estate development company specializing in senior living communities. Through Lunsford Capital, Bruce is an involved investor, director, and adviser to many startup businesses. Bruce has been an active philanthropist for more than 20 years.
Limited Seating
RSVP to mary.tapolsky@louisville.edu
---
e+i: Entrepreneurs Meet Innovators Events