After being in the sleepless diverse city of Brussels for over five weeks, I was anxious any excited to finally have an opportunity to explore a new country. Luxembourg is a small nation tucked between the valleys of Germany and Belgium, and the entire country is just slightly larger than the metro area of Louisville. I was very excited to get an extended weekend off work to explore the city on the weekend and attend meetings at the Luxembourg National Bank on Monday.
Being from a small town, the city of Luxembourg was a heavenly getaway. I didn't mind that almost all the shops were closed on Sunday and I was excited to be back in a place where strangers smiled as they passed you on the streets. I was lucky to be able to travel here while the world cup was going on because they were having a small festival in the city center, much different from the drunken late night festivals that go on in Belgium. While I stayed away from the carnival rides, I tried my fair share of caramel crepes, churro ice cream cones, and Italian pan pizza.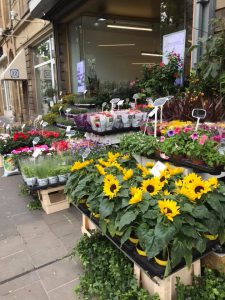 Monday was when the real work started, and as I have had many amazing experiences with Fulbright this summer, I never expected to be able to have lunch with the CEO of the Luxembourg National Bank and the acting Ambassador to Luxembourg. Both of these accomplished women were so welcoming and friendly during our meeting, and it was an opportunity I will never forget.- That is I will never forget the amazing five course meal or the words of wisdom from these role models.
I feel as if I have just arrived in Belgium last week, but I know my two months here is quickly coming to an end. As I was nervous to take an internship abroad, I know this has been one of the most important experiences in my education thus far. The Fulbright Belgium Executive Director, Erica Lutes, told me when I first arrived to not underestimate any opportunity that arises, because in a moment's notice you will go from grabbing coffee in the Midi-Station to chatting with members of the Flemish royal family at a reception without even knowing who they are (which really did happen!) The bustling city of Brussels truly never sleeps, but I was glad to be able to catch up on my sleep schedule by not working 60+ hours a week in the relaxed hidden nation of Luxembourg.